Tate Britain celebrates the short but seismic age of New Brutalism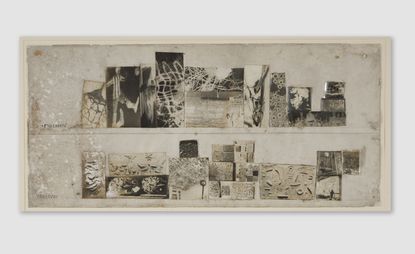 (Image credit: TBC)
Designed in 1949 by Alison and Peter Smithson and opened in 1954, Hunstanton Secondary Modern School was a radical series of Miesian boxes landed in Norfolk; and a key building in the development of British modernism.

The team behind its construction, and the documentation of its construction, included not just the Smithsons but the sculptor Eduardo Paolozzi, who created a large collage for the school; the artist-photographer Nigel Henderson; as well as the pioneering structural engineer Ronald Jenkins of Ove Arup & Partners. The group fused, found common creative cause and continued to collaborate.

The Smithsons designed Jenkins' office at Arup which featured a Paolozzi collage on the ceiling, a project which saw them become a cross-disciplinary collective dedicated to exploring the problems and potentials of mass media and other manifestations of modernity. The critic Reyner Banham would tag that broader project 'New Brutalism' in 1955.

In the meantime the team, now the nucleus of what was the Independent Group, also helped create the hugely influential 'Parallel of Life and Art' exhibition at the ICA in 1953. Tate Britain's 'New Brutalist Image 1949-1955' exhibition, celebrates this short but seismic collaborative blast with previously unseen pictures by Henderson as well as plans and drawings by the Smithsons.
ADDRESS
Tate Britain
Millbank
London SW1P 4RG
VIEW GOOGLE MAPS (opens in new tab)