Cornelia Parker's major Tate Britain survey explores British fragility
At Tate Britain, Cornelia Parker's first London survey show dissects politics and history and reframes everyday life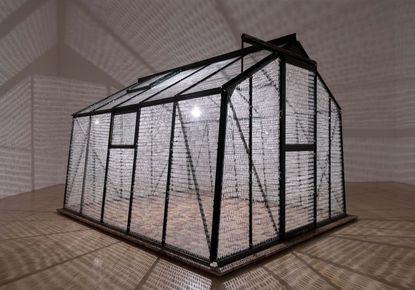 (Image credit: Tate Photography Oli Cowling)
Tate Britain is hosting an expansive survey of more than 90 works by legendary British artist Cornelia Parker, spanning from the 1980s – 2022. On view until 16 October 2022, the show debuts new video and sculptural works Flag, 2022, and Island, 2022, which are staged alongside some of the artist's most recognisable sculptures and installations.
The wall text accompanying each piece is sprinkled with Parker's first-person reflections, providing insight into the story and context behind each work. In her narration, we see Parker draw alternative meanings from the ordinary. Prison Wall Abstract (A Man Escaped), 2012 – 13 brings us through a daily walk, where Parker extracts art from the everyday in prison-wall cracks, and her News at… 2017 series, which sees children scrawl newspaper headlines of 'Theresa Maybe' and 'Trump Spreading Social Poison' on chalkboards.
Parker sees art in the underside of things. She highlights awkward objects and ugly mishaps, transforming them into abstract images of colourfully taped backs of signs and pools of spilt milk on the pavement. In Black Path (Bunhill Fields), 2013, she takes a bronze cast of the gaps between paving stones and elevates it inches above the ground, creating a striking structure. Familiar shadows are cast on the floor below the hovering hopscotch, creating an emblem devoid of function.
Stolen Thunder, 1997 – 98 introduces us to Parker's more satirical side. Presenting cloth bearing the tarnish from Henry VIII's armour, Charles Dickens' teaspoon and Guy Fawkes' lantern, she realises the phrase 'tarnished reputations', 'stealing their thunder and their fame'.
Elsewhere, she animates stacks of newspapers and exposes brash headlines gathered during the campaign period for Britain's 2017 General Election. In Left, Right and Centre, 2017, newspapers blow around the House of Commons chamber at the hands of an artificially generated wind, evoking the turbulence and clashes so often associated with the space. In Perpetual Canon, 2004, Parker's 'mute marching band' arrives in the form of a ring of flattened brass instruments, morphing the musical into a visual performance of shadows on walls, with no chance of sound.
A disjointed theme runs through the gallery and into the video spaces, where dream-like images of American revellers on Halloween are displayed alongside footage of Trump supporters 'chanting like extras in a horror movie', a blatant comment on a polarised America. Sound also plays a role in this hazy atmosphere in a new work, Flag, 2022, where Parker reverses footage of a Union Jack's production accompanied by a humdrum hymn. The film visualises a ritualistic undoing of the patriotic monument, separating colours and unstitching strips of red, white and blue.
Parker's sometimes tongue-in-cheek approach to violence is demonstrated in her comic book-esque imagining of an explosion frozen in time. Cold Dark Matter: An Exploded View, 1991, allows the destruction of a shed to be inspected. The static light in the centre of the artwork sustains the brutality of the act, a reminder of the border between violence and reflection that this work sits on.
The final room, Island, 2022 – created especially for this exhibition – offers a similarly quiet moment. The work reflects on politics – specifically Brexit – and borders, beckoning us to heed the warning that people in glass houses shouldn't throw stones. The greenhouse is marked patriotically with paint made from the chalk of the White Cliffs of Dover, and the floor comprises reclaimed tiles from the hallways of Westminster Palace. Parker leaves the symbolism of the glass, chalk-lined borders and foundation of historic, well-trodden tiles (previously destined for the tip) for us to interpret from any angle.
Her fundamental comment, seemingly, is on the fragility of our island.
Receive our daily digest of inspiration, escapism and design stories from around the world direct to your inbox
Martha Elliott is the Junior Digital News Editor at Wallpaper*. After graduating from university she worked in arts-based behavioural therapy, then embarked on a career in journalism, joining Wallpaper* at the start of 2022. She reports on art, design and architecture, as well as covering regular news stories across all channels.