Photographer Leandro Farina casts a rare, cinematic light on Balfron Tower
We sit down (from afar) with the London-based photographer to get his take on the past life of a Brutalist icon on the cusp of transformation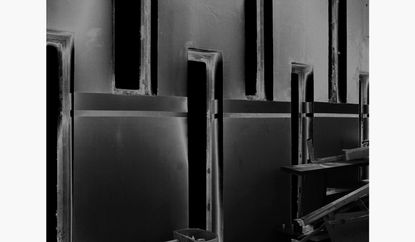 (Image credit: Leandro Farina)
Long-time Wallpaper* contributor, Leandro Farina's striking experiments with light and photographic techniques have seen him carve out a distinctive reputation in still life photography, with collaborations with the likes of Louis Vuitton and Tom Ford under his belt. Here, for a personal project, he throws the spotlight on something a little different: Ernö Goldfinger's vertical vision for London, cemented in the brutalist architecture of Balfron Tower. Farina gained access at a rare moment, in the early stages of a regeneration project that has stirred a debate on gentrification. This poignant visual narration, titled Balfron, Brownfield, Estate, uses an arresting light inversion technique, which, as he explains, felt like an appropriate application for Balfron Tower's 'second life'.
Wallpaper*: When and how did the idea for the project Balfron, Brownfield, Estate come about?
Leandro Farina: In 2017 and 2018. I had shot an interiors project for the developer and asked if I could get access for my own project. I don't live too far from the estate – which made it easier to return frequently – and I always regarded it when I walked past.
After my visit, I was struck by how building projects take place. This kind of transformation happens in relative seclusion: a curtain goes up at the beginning and when it's finished, is taken away again, so you don't really get to see the process. I liked the idea of taking pictures in a place and creating an archive of it periodically. This meant that every time I returned, lots had changed; I could never take the same picture in the same place twice – a new version of the scene would emerge.
W*: What do you find so intriguing about the architecture and story of Balfron Tower?
LF: I think of Goldfinger and Balfron as interesting London characters and I love how the building has been used in the past. Balfron has been the backdrop to quite a few films and books and I had read J.G. Ballard's High-Rise in my 20s. Somehow that always sticks in the mind when walking around London especially when it's grey. But I think my interest in the project was more opportunistic. I stumbled into it and how it looked affected me somehow, so I started to think, 'why?'.
I think that Brutalism, in general, frightened me as a child growing up in London. To me, the austere and functional design and the incongruousness of the monolithic concrete towers rising from behind rows of two-storey Victorian houses were fascinating and repellent in equal measure.
I've always been attracted to interiors because I like to think about the people who lived in those places previously and try to understand the story of a place at a certain time. As the tower stood completely empty in a state of deconstruction, it let me look at these layers of habitation in linear stages going backwards. I saw it as a portal to a kind of different time in an otherworldly landscape.
W*: Can you talk a little about your photographic approach to this?
LF: I usually work with tabletop-sized things, but also work on larger projects for Wallpaper*, photographing (set build) interiors, I always try to think about these projects from the point of view of the people who might use them and create the spaces with that in mind. I love architecture, but don't take pictures of it professionally so I just approached it in the same way I work in the studio. I had an idea of what the pictures should look like and I went looking for them in the building.
Once I had all the pictures I could take, I sat on it for a quite a while and wondered if I could do more than just create a record and perhaps make the image-making process more integral to the subject matter. I experimented with various processes but kept coming back to a kind of solarisation process; inverting the light seemed to feel somehow appropriate to the building's second life.
W*: What were some of the most interesting objects or elements of the building that you came across?
LF: I tried to look for anything personal that was left behind or that might indicate the passing of time. The Margaret Thatcher room was an interesting surprise. The entire room was covered in postcard-sized images of Margaret Thatcher's face in an animated sequence, like film slides laid out next to each other. I have no idea why, but the mystery is compelling. Balfron has 146 flats; many of the floors in the building were already stripped so I could see all stages in the process. A couple of the floors still had elements of previous tenants' interiors, wallpaper or modifications to the interiors – I tried to look for as many of these as possible.
W*: Do you have any plans to publish the series?
LF: I'm planning to publish it as a book, hopefully towards the end of the year.
INFORMATION
Harriet Lloyd-Smith is the Arts Editor of Wallpaper*, responsible for the art pages across digital and print, including profiles, exhibition reviews, and contemporary art collaborations. She started at Wallpaper* in 2017 and has written for leading contemporary art publications, auction houses and arts charities, and lectured on review writing and art journalism. When she's not writing about art, she's making her own.
With contributions from