Born again: Hammer Prints by Nigel Henderson & Eduardo Paolozzi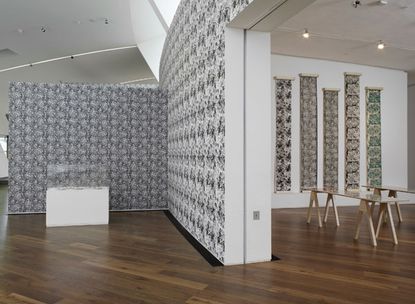 (Image credit: Andy Keate)
Hammer Prints Ltd rose from the ashes of a postwar England, brought to life in 1954 by Nigel Henderson (opens in new tab) and Eduardo Paolozzi (opens in new tab) as an antidote to the quaint crafters of the early 20th century. The artists - who had earlier co-founded the Independent Group (opens in new tab) - set up Hammer to purchase, manufacture and sell textiles, ceramics and furniture, yet the duo most memorably produced 11 patterns of their own.

Those designs, printed on wallpapers, textiles and ceramics, melded influences as diverse as the Omega Workshops (opens in new tab) and Abstract Expressionism (opens in new tab) with the duo's own unique style, and now they are having a second coming. Firstsite (opens in new tab) gallery in Colchester has delved into the Hammer Prints archives for its latest exhibition, designed by Wallpaper* Handmade collaborators A Practice For Everyday Life (opens in new tab) (see W* 149). This is the first time the collaborations have been showcased since Hammer's dissolution.

The artists' diverse backgrounds informed their groundbreaking work. Henderson was groomed for the fine arts from his youth; his mother managed Peggy Guggenheim's first gallery, Guggenheim Jeune (opens in new tab), and through her links he crossed paths with avant-garde luminaries like Marcel Duchamp (opens in new tab) and Max Ernst (opens in new tab). Meanwhile Paolozzi grew up above his father's modest ice-cream parlour in Leith, where the local street culture had a huge impact on his sculpture.

Yet their mutual enthusiasm for mass culture and their insatiable magpie interests served to amplify their friendship and make their collaboration unusually engaging.

At Firstsite, A Practice For Everyday Life pay homage to Hammer's penchant for magnification by enlarging its prints along the mammoth curved spine of the gallery. You can see in 'Newsprint' photographs of hoardings and wall drawings taken during a visit to Paris, while 'Portobello' is a charming illustrative ramble of curios from the market. Other designs used Victorian transfer prints, botanical and marine illustrations, rubbings from wood and children's art.

Although Hammer Prints never achieved commercial success, it seems aptly named, as it certainly goes to war with the garden-variety craft show. Wallpaper* caught up with exhibition designers A Practice For Everyday Life for a closer look.

What did you find attractive about this particular movement of Henderson and Paolozzi's?
We have long been fans of both Henderson and Paolozzi and while Hammer Prints might not be their most well known work, it was very closely associated with them, and to an extent emblematic of their attitudes towards art, craft, commercialism and production. For Firstsite to be holding the show seems appropriate, since they had a strong connection to that part of Essex. Also, while Hammer Prints was officially dissolved in 1975, it was only last year that Cole & Son produced the final Hammer Prints design. With the enterprise and its legacy drawn almost to a complete close, it felt like the right time to celebrate it.

Collaboration is at the core of Hammer Prints. Tell us about your experience with [Firstsite curator] Michelle Cotton.
Michelle approached us earlier in the year to design both the Hammer Prints exhibition and the accompanying book, which will be published in 2013, and we have been working closely with her to shape the design of the exhibition. We did so by applying graphics around the space, and taking some of their imagery and enlarging it to enormous proportions to fit around the architecture of the building. We also created products using the original artworks. They represent a new lease of life for some of the patterns from the archive.

How did the architecture of the gallery influence the design of the exhibition?
Firstsite's sweeping curves and expansive walls were a blank canvas for us to create something really immersive. We worked with the original acetates to recreate wallpaper patterns at 1:1 scale, to put the work back in its original context. Logistically it was quite challenging, but there's no such thing as an 'average' space; each venue brings its own set of challenges and advantages for exhibition designers to exploit.
ADDRESS
Lewis Gardens
High Street
Colchester
Essex CO1 1JH
VIEW GOOGLE MAPS (opens in new tab)