Two South London Gallery shows explore selfhood and subcultures
Running concurrently at South London Gallery, exhibitions by Simeon Barclay and Rene Matić explore the complexities of cultural identity utilising film, photography and construction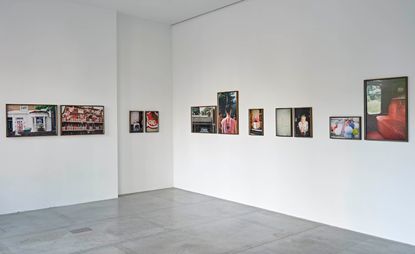 (Image credit: Andy Stagg)
South London Gallery established its main building in 1891, but has expanded in recent years to include additional spaces. Each holds its own rich history, and provides an apt stage to consider ideas around legacy, identity and British culture. In their respective solo shows, Simeon Barclay uses sculpture to prompt conversations about space, while Rene Matić considers notions of 'Britishness' through film, photography and memorabilia.
Rene Matić: 'Upon this Rock'
The two London art exhibitions run concurrently, yet explore two very different perspectives. Matić's artwork, on view in the gallery's Fire Station space, uses images of graffiti and masculine tropes to offer insights into British culture. The flags in the show are used as emblems of identity; an image of the St George cross is stamped across the front of a block of flats, a tentative link to 'skinhead subculture'. Alongside it is an image of Union Jack bunting hanging across the front of a terraced house. In Matić's ongoing series flags for countries that don't exist but bodies that do, a cluster of Union Jack darts sit next to a 'Black power' afro comb; both are inside a mug that says 'your country needs you', and sit on books by African-American artist Glenn Ligon. Elsewhere is an image of flags shoved down the front of tracksuits, and another of a police car crashed into traffic lights, setting a tone of structures in flux and asking 'whose authority?'
Matić looks at resetting the meaning of flags, their piece upon this rock, I will build my church, 2022, takes an extract from the Bible. A flag, hand-stitched with the work's title hangs over the entrance to the building. Inside, spirituality draws the show together. A dimly lit room, with one wall covered in crucifixes, feels like a shrine. On closer inspection, each cross holds the figure of a skinhead – the crucified body used as a mark of perceived alienation. Emblems of organised religion cross over into subcultural references; a 30-minute video, Many Rivers, 2022 is watched from two church pews. The video documents childhood anecdotes from Matić's father's childhood. Recalling racism, school and the social care system, the video retraces the artist's early years through the eyes of their father, mother, grandfather and aunt.
In the show, Matić displays an array of competing symbolism, using religion as a lens through which to understand specific cultures. 'There are parallels between finding the church and finding the pub,' the artist explains. 'Or finding god and finding subculture.' By pinpointing moments of platonic intimacy and visiting familial history, Matić reflects on the routes we all take to finding our own subcultures, and in turn our own 'flag' – literally or spiritually.
Simeon Barclay: 'In the Name of the Father'
In the main building, Simeon Barclay's work speaks about navigating space, in an exhibition that embodies the internal negotiations that occur when entering a new cultural environment. 'It's about saying, "I'm not what you say I am, I can make myself into who I want to be",' he explains.
A fibreglass rock, Pittu Pithu Pitoo, 2022, towers across the entrance to the gallery, a black rope is wrapped around the summit of the mass and connects to What you Make of it (trace), 2022 in the centre of the room, in which a tin bathtub looms our heads. The interconnected pieces seem comical, as though by entering the space we become part of a slapstick cartoon at risk of being flattened, but in real life the object imposes on our comfort, hanging uneasily above. The rope continues, tangled in pulleys across the ceiling and dropping down into a bucket filled with weights. There is an overwhelming urge to touch the rope to check how heavy the weights are, but 'do not touch the artwork' conventions intervene just in time. The urge strikes again with Higher Purchase, 2022. Eight doors span across the centre of the room, forcing a decision to be made on which door you choose to walk through.
Barclay encourages us to take note of our decisions, and it's these moments of discomfort that anchor his creative vision. 'The whole experience of life is navigating ideas and perceptions around yourself,' he explains. The artist's journey with creative identity and other people's expectations is interspersed throughout the show. He recalls being revered by his aunts for wearing a suit made by his father, referenced in Knight (rats), 2022. 'I realised fashion can be a buffer, an armour – something you can disappear in, but also that can reaffirm who you want to be.'
Childhood references are dappled around the room, Knight (rats), 2022, sees snakes of soft toys emerge from the legs of two identical suits and wind across the floor. Iceberg, 2022 comprises a stack of cages, boxes and huts, at the core of which is a marionette of Black man dressed in an outfit inspired by Elton John's 1980 'Donald Duck' costume. It's childlike, playful, but less comfortable when you consider the ease at which the puppet's movements can be manipulated by the strings attached to its limbs, and the plastic cage around it.
The shows are complex, each approaching parallel topics in opposing mediums. Barclay's work eases us into connections between family and expectations through construction and metaphors, while Matić exposes us to a symbolic look into both their history and the everyday. Both artists use the differing spaces at South London Gallery to allow a considered display of their personal stories.
INFORMATION
Simeon Barclay: 'In the Name of the Father' and Rene Manić: 'Upon This Rock' are both on show at South London Gallery until 27 November
Martha Elliott is the Junior Digital News Editor at Wallpaper*. After graduating from university she worked in arts-based behavioural therapy, then embarked on a career in journalism, joining Wallpaper* at the start of 2022. She reports on art, design and architecture, as well as covering regular news stories across all channels.
With contributions from