Looming larger than ever: 'Düsseldorf Photography' at Ben Brown Fine Arts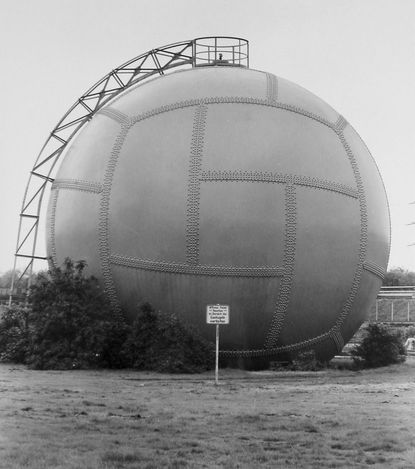 (Image credit: TBC)
Bernd and Hilla Becher studied at Kunstakademie Düsseldorf in the late 1950s and both ended up working at the city's Troost advertising agency. They began a creative relationship that has shaped European 'fine art' photography for the last four decades – and, if anything, their influence only increases. The Bechers' cooling towers, lime kilns, gas tanks that look like giant footballs and other super-functional architecture – all shot under flat, gloomy, sun-and-shadowless skies and mostly in the industrially scarred landscape around the Ruhr – loom larger than ever, now iconic. (They were the dark stars around which all else seemed to spin, at least year's 'Constructing Worlds' (opens in new tab) show at the Barbican).

But as 'Düsseldorf Photography: Bernd & Hilla Becher and Beyond' (opens in new tab), a new show at the Ben Brown Fine Arts (opens in new tab) gallery in London, makes clear, their influence has been direct and personal. In 1976, Bernd was appointed professor of photography at Düsseldorf art school (technicalities meant that the husband-and-wife team couldn't teach together but its clear, given their creative relationship, that Bernd's students were getting the Bechers as a package deal).

By this time, Düsseldorf's art school was already playing a key role in the development of European contemporary art. Joseph Beuys had been appointed professor of sculpture in 1961 and the academy's students included Anselm Kiefer, Gerhard Richter (who went on to teach painting there) and Sigmar Polke. The Bechers would create a photography department of similar pull and power. Its alumni includes Thomas Ruff, Thomas Struth (who originally enrolled to study under Richter but switched courses), Andreas Gursky, Elger Esser, Axel Hütte and Candida Höfer, all represented in the Ben Brown show (it also includes works by Thomas Demand – though Demand studied sculpture at Düsseldorf rather than photography). The joy of the show, of course, is looking at what these photographers took from the Bechers – that mix of the clinical and the sublime - and what they added along the way.
ADDRESS
Ben Brown Fine Arts
12 Brook's Mews
London, W1K 4DG
VIEW GOOGLE MAPS (opens in new tab)