'Darker, more sinister themes': Paula Rego's decade of self-discovery is the subject of a new London exhibition
Paula Rego's 'Letting Loose', at Victoria Miro in London, considers the artist's work from the 1980s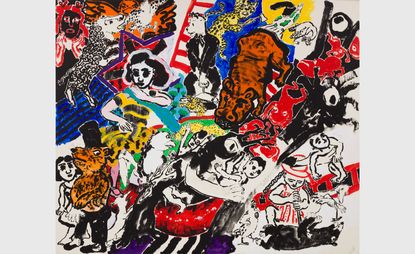 (Image credit: © Ostrich Arts Ltd Courtesy Ostrich Arts Ltd and Victoria Miro)
For Paula Rego (1935 – 2022), art was a way to make sense of the world around her, a creative untangling of both the political situation and her own personal relationships. Her work in the 1980s encompassed this tension in the juxtaposition between the childlike joy she took in the rapid way she created her work and the grown-up themes it represented. (Much later, in 2014, Rego contributed her favourite dish to our Wallpaper* artist's recipe series.)
Now, this productive period is explored in a new exhibition. 'Letting Loose', at Victoria Miro, looks at significant works including her Girl and the Dog and Opera series, considering how Rego used these works as an outlet for complex emotions surrounding her relationship with her husband, the artist Victor Willing.
'The pictures Paula made during the 1980s were rooted in personal experiences, and she ended up keeping many of them as mementos,' says Erin Manns, director of exhibitions at Victoria Miro. 'The paintings in this exhibition, perhaps more than any others, helped her to understand herself and those close to her. She created a cast of characters and hybrid human-animal creatures that helped represent milestone moments in her life, and helped her tackle darker and more sinister themes.'
Rego explored her feelings for Willing, who by the 1980s was extremely ill with multiple sclerosis, in Girl and the Dog, the challenges of his care seen through the lens of her Catholic upbringing.
In the Opera paintings, she reaches further back, a jumble of colour and imagery expressing the drama she witnessed on the stage during a visit with her father, and the turbulence of her own emotional life. In The Vivian Girls it is her first visit to New York which is combed over for clues as to its importance. '"Letting Loose" charts a remarkable period of liberation and self-discovery for Paula,' Manns adds. 'The Operas are a highlight, which gained popularity around the world in the 1980s. For Rego, however, they spoke of an earlier time, of her experiences visiting the Lisbon opera house with her father in the 1950s – and her excitement at the intrigue and scandal unfolding both onstage and off.'
Ultimately, the decade marked a turning point for Rego, symbolising both personal and professional growth. 'Moving away from a process of making collages – drawing and painting material that she would then cut up and arrange into sophisticated figurative puzzles – she began instead to engage with her childhood passion for painting as play. This exhibition is all about this newfound freedom. It was during this time that Paula started to tell her own story more vividly, using her artwork as a way of picking through her true feelings and memories.'
'Paula Rego: Letting Loose' is on 22 September – 11 November 2023, Victoria Miro, Gallery I, 16 Wharf Road, London N1 7RW
Receive our daily digest of inspiration, escapism and design stories from around the world direct to your inbox
Hannah Silver is the Art, Culture, Watches & Jewellery Editor of Wallpaper*. Since joining in 2019, she has overseen offbeat design trends and in-depth profiles, and written extensively across the worlds of culture and luxury. She enjoys meeting artists and designers, viewing exhibitions and conducting interviews on her frequent travels.