Jason Orton, An Essex Journey, Tokyo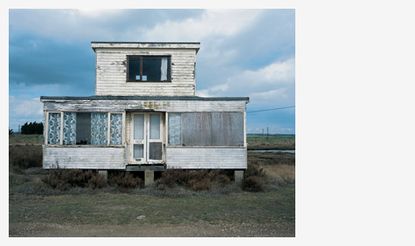 (Image credit: Press)
Margaret Howell Tokyo is a suitably quirky location for a new exhibition opening tomorrow of landscape photography by Jason Orton.
Orton is firmly placed in the very English tradition of painstaking observation, elevating the low-key and reifying the banal in an attempt to give meaning and life to the overlooked.
Over the past ten years, the photographer has worked for numerous newspapers and magazines, also finding the time to build several ongoing portfolios looking at Britain's emerging post-industrial landscapes, as well as essays on Spain and India.
See more of Jason Orton's landscape photography in his latest show, An Essex Journey
As the title suggests, An Essex Journey chronicles a leisurely passage through a landscape, in this case entire length of the Essex coastline, a marginalized and unlovely place far from the metropolitan gaze. Travelling with the writer Ken Worpole in 2005, Orton's camera was turned both inland and out to sea, observing the communities and industries that existed on the shore, and other weather-beaten remnants of human habitation. These are pictures of another kind of beauty, a world away from airbrushed perfection, be it human or architectural.
As Worpole writes in his introductory essay, 'at the end of the journey we appreciated, more than ever, that the Essex shoreline is especially memorable for its obstinate refusal to conform to conventional notions of what is beautiful or picturesque. This landscape is singularly rich in history, and full of layered meanings and visual pleasures to those who give it the time and attention it deserves'.
Receive our daily digest of inspiration, escapism and design stories from around the world direct to your inbox