Philippe Fragnière captures the myth and magic of mountain life
In ʻBalancing Act' at SAI Gallery, Tokyo, Swiss photographer Philippe Fragnière explores the mythologies of his native Alps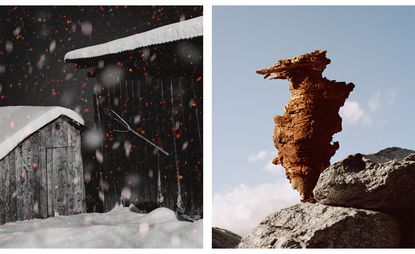 (Image credit: Philippe Fragnière)
Growing up in a small village in the Swiss Alps, photographer Philippe Fragnière became well versed in making sense of life in a harsh landscape. There, generations would pass down stories describing the deep winters, intense summers and those that discouraged children from straying too far into the dense forests.
Over the years Fragnière regularly returned to walk the landscape and, staying in a remote cottage, he worked on Greppon: part photo series, part mythological exploration. Open to interpretation, these scenes are both real and unreal, just as mythologies often originate in truth
As Fragnière explains: 'Greppon plays on the idea of vision – a vision that is in turn blurry, crystal clear and even surreal. There is a desire for an immersive creation that is derived from the more intuitive approach that has guided this project. The entire process was approached in a phenomenological way, exploring the differentiation between reality and perception. An exploration of the idea: if a tree falls in a forest and no one is around to hear it, does it make a sound?'
This sense of unknown that Fragnière describes is shown within the darkness of the images, hinting at the oppressive sense of stagnation and potentially fraught relationship with the environment experienced by remote communities. The series will soon be released as a book, and is currently on view in Fragnière's show 'Balancing Act', at Tokyo's SAI Gallery.
In a research-based accompaniment to the main show, visitors can view Punctum, an experimental series Fragnière created as a form of playful escape during the first lockdown of the pandemic. 'The objects become sculptural because we look at them as sculptures. But these objects/props are the most basic, ordinary or even vulgar objects from everyday life,' he says. 'What I like about them is the fact they are very low key, almost forgettable. But actually, by looking at them carefully you realise that they carry a sense of beauty. I used them a little bit like we would use words in poetry or notes in music; I combine them in such a way that at times they rhyme or give a sort of harmony.'
Punctum is printed on poster paper and hung as if floating off the wall. The series will be sold in editions of 20, and there is an accompanying zine printed on newspaper. Collectively, 'Balancing Act' is a curious insight into Fragnière's vast imagination and personal history.
INFORMATION
'Balancing Act', until 22 August, SAI Gallery, Tokyo. saiart.jp (opens in new tab)
Sophie is currently Photography Editor at Wallpaper*. Sophie joined the team following the completion of her photography degree in 2018, and works with Photography Director Holly Hay, where she shoots, commissions, produces, and writes on photography. Alongside this, she continues her art practice as a photographer, for which she was recently nominated for the Foam Paul Huf Award. And in recognition of her work to date, Sophie was nominated by the British Journal of Photography for the Futures photography platform in 2021.
With contributions from