John Pawson unveils first-ever sculpture in Tokyo exhibition
At The Mass, Tokyo, British architect John Pawson stages his first solo exhibition in Japan, revealing his first sculpture and a new photography series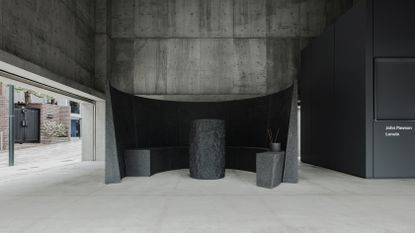 (Image credit: Keishin Horikoshi / SS)
John Pawson might be best known as an architect, whose ultra-minimalist, rigorously direct approach probes the fundamental meaning of inhabitation and how the body relates to space.
Pawson's new exhibition at The Mass, Tokyo, is something of a homecoming for the architect, who lived in Japan in his mid-twenties; first in Nagoya, and later in Tokyo, where he frequented the studio of architect and designer Shiro Kuramata. These formative experiences in the country would go on to heavily influence the distilled, pared-back approach to architecture and design for which Pawson made his name.
Lunula: John Pawson's sculptural debut
Pawson's show at The Mass, his first solo show in Japan, will span three gallery spaces and extend to an outdoor area in StandBy, a nearby installation space where he will debut his first sculpture. Lunula is a charcoal-coloured structure that can be entered and inhabited. Although Pawson has remained consistent in his view that his work is architecture, as opposed to art, his new sculpture probes the intersection of these disciplines and more broadly questions the relevance of such labels. Lunula is positioned as a multi-sensory experience, enveloping the viewer in its crescent shape and offering a place to sit and reflect around a cylindrical chimney and billowing incense. 'I designed Lunula as a piece of inhabitable sculpture, to be experienced as a seamless sensory totality. I want it to be a place that feels comfortable to be in, where all the qualities of a very particular spatial environment come alive.'
In the galleries, Pawson will show chromatically ordered images from his Spectrum series, and debut a new series, Home, in which the architect turns his lens towards his own domestic spaces. In these images, Pawson transcends the precision and often white minimalism of his architecture and design work, inviting viewers on a journey of colour, texture, atmosphere and their collective ability to rouse emotion.
Pawson's ability to command light and space in the photographic sphere has come to the fore in recent years. It began in 2012 with 'A Visual Inventory', followed five years later by Spectrum, which began in book form and became a 2018 exhibition at London's 180 The Strand. 'A Shade of Pale', curated by Carrie Scott, enveloped the entire gallery space in 320 photographs, staged as an immersive architectural installation.
'In accepting the invitation to exhibit my photographic work at The Mass, I have a sense of completing a circle that began nearly half a century ago, when I was living in Japan', says Pawson, who explains how he enlists his camera in the same way that others might use a sketchbook. 'Those years, first in Nagoya and then in Tokyo, clarified so much for me and continue to influence what I see when I look through the lens of a camera.'
John Pawson's exhibition at The Mass, Tokyo, runs from 14 April - 14 May 2023. themass.jp
Harriet Lloyd-Smith is the Arts Editor of Wallpaper*, responsible for the art pages across digital and print, including profiles, exhibition reviews, and contemporary art collaborations. She started at Wallpaper* in 2017 and has written for leading contemporary art publications, auction houses and arts charities, and lectured on review writing and art journalism. When she's not writing about art, she's making her own.