John Pawson's 'garden-like' installation puts his photography in the frame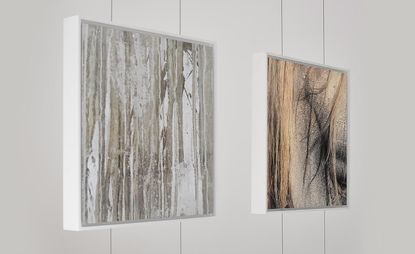 (Image credit: TBC)
It's a bit like going through a garden,' John Pawson says. The renowned architect is talking from his busy London office about his minimalist photographs currently appearing in the multi-artist exhibition 'A Shade of Pale', possibly the largest (by acreage) photography installation ever undertaken and opened at 180 The Strand, a massive brutalist space near Covent Garden.
The garden he's imagining, he says, is one that leads the visitor from white roses to black roses; here, that garden becomes a series of perfectly-articulated hanging frames whose resident photographs begin to articulate a deepening sense of the colour spectrum. The garden metaphor also works because this, unlike his book Spectrum, is a three-dimensional and resolutely architectural experience of Pawson's richly sensual interests outside of the precise – and often white – work he's recognised for producing.
Pawson worked in collaboration with master framer Tim Blake on an unconventional double-sided free-hanging exhibition format, which allows the viewer to walk among the photographs, to see their edges, and to experience a single plane from multiple vantage points. 'We're dealing with containers and frames all the time,' he says of the relationship between his architectural work and photography, which have joined together in this unusual immersive installation.'I always think hanging stuff affects space dramatically,' he says of his approach to decorative art as an architect. Usually, Pawson likes to leave the walls free in his architecture; here he had the chance to install hundreds of photographs and 'still have the wall free'.
Art historian and independent curator Carrie Scott, who organised and produced the exhibition, agrees that the installation changes the work. 'You have to occupy the space with them, they demand a physical reaction,' she says. 'These pieces aren't about photography, they are about architecture and space and dimension. And so when you see them, in the round and as a whole, they are actually complete and physical, which ultimately makes so much sense coming from John and shifts the narrative about photography as a "flat art" to one about photos as sculptures.'
INFORMATION
'A Shade of Pale' is on view until 2 June. For more information, visit the 180 The Strand website (opens in new tab) and the exhibition website (opens in new tab)
ADDRESS
180 The Strand
London WC2R 1EA