Fun factory: DABSMYLA cover an LA building with psychedelic illustrations
Artist couple DABSMYLA cover every inch of an old Los Angeles factory building with psychedelic graffiti for their most ambitious project to date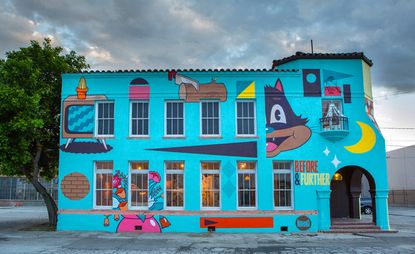 (Image credit: Brent Broza)
LA-based Australian graffiti artists Dabs and Myla are not averse to a challenge. Working under the studio name of DABSMYLA (opens in new tab), the husband-and-wife duo, who have painted everything from city walls and awards show sets to furniture and vases, are always on the lookout for a new canvas. So when they discovered a disused storage building at the Los Angeles factory of mid-century-inspired furniture manufacturers Modernica (opens in new tab), they felt the urge to decorate.

'We were in the process of looking for spaces for a pop up when Modernica approached us about collaborating with them on a demi table and fibreglass chair,' recall the designers. 'It was during the meeting with them we saw the stand alone building on their property and asked them what the deal was with it – they explained they were just using it for storage. We asked to go inside and check it out and straight away we picked up a great energy and could envision what we could do to the space to transform it. So it started as a meeting about a small collaboration and organically transformed into a total partnership between us and Modernica in creating something so much bigger.'

Covering the exterior and interior walls with their trademark psychedelic patterns and zany-faced characters, DABSMYLA have also furnished the 4,000 sq ft 1930s Spanish Revival workplace building with paintings, sculptures, installations and exclusive furnishings to create an immersive cartoon world, which they have titled 'Before & Further (opens in new tab)'.

'We started working on the paintings for this show around December last year and worked on them in-between other projects all this year,' explains Myla. 'We finished up on all the pieces around mid July, then spent a few weeks drawing and conceptualising on the ideas for the installation. Once we started on the physical work of painting in the space it was just over eight weeks from start to finish... but it was an intense eight weeks. We worked seven days a week for a minimum of ten to 12 hours a day. We worked like that back-to-back for the whole eight weeks taking no days off.'

On closer inspection, the illustrations and pictorial narratives reveal a number of mid-century elements, highlighting Modernica and DABSMYLA's shared passion for mid-century modernism and the contemporary artists of the post-war period. 'We spent a long time designing and planning out the installation, but once each area started to be physically painted and constructed we would start to see more to add or change. I think in the end the result was probably 70 per cent from what was planned and 30 per cent created spontaneously as we worked,' recalls Dabs.
In addition, furnishings include limited-edition versions of Modernica's 'Case Study' fibreglass shell chairs, hand painted ceramics and custom-built lighting installations based on mid-century classics, which were all designed exclusively for the collaboration and made using the Modernica factory's facilities.
The 4,000 sq ft 1930s Spanish Revival workplace building belongs to mid-century-inspired furniture manufacturers Modernica, who offered up the space after approaching the duo about collaborating with them on a line of furniture pieces
As well as covering the exterior walls with their trademark psychedelic patterns and zany-faced characters, DABSMYLA have also furnished the interior with paintings, sculptures, installations and exclusive furnishings to create a totally immersive cartoon world
On closer inspection, the illustrations and pictorial narratives reveal a number of mid-century elements, highlighting Modernica and DABSMYLA's shared passion for mid-century modernism and the contemporary artists of the post-war period
Furnishings include limited-edition versions of Modernica's 'Case Study' fibreglass shell chairs, hand painted ceramics and custom-built lighting installations based on mid-century classics
INFORMATION
'Before & Further' is on view until 15 November
Photography: Brent Broza
ADDRESS
Modernica
2901 Saco Street
Los Angeles, CA 9005
VIEW GOOGLE MAPS (opens in new tab)