Marina Abramović at the Royal Academy: trauma to transcendence
Marina Abramović at the Royal Academy of Arts in London is a solo show spanning five decades of practice. Amah-Rose Abrams reports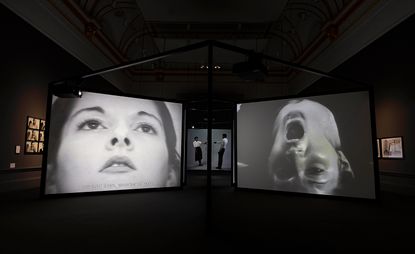 (Image credit: © Marina Abramović. Photo © Royal Academy of Arts, London / David Parry)
Marina Abramović is the first woman to have a solo show at the Royal Academy. This seems no less strange when you remember that this show has been postponed at least once. But as the doors to this long-awaited show finally opened, it was clear that the moment had not been lost.
This survey (open until 1 January 2024 and anticipated since Abramović's 'Seven Deaths' at London's Lisson Gallery in 2021) covers five decades of practice and showcases works combining performance, installation, film and photography. It begins with human connection, trauma and pain, transitions through endurance and ends up in a place of meditation, peace and transcendence, tracking Abramović, probably one of the world's most famous living artists, through a life dedicated to art.
Marina Abramović at the Royal Academy
As I shuffled between the two nude performers restaging Abramović and Ulay's Imponderabilia, 1977, it was abundantly clear that this exhibition could not have happened during the pandemic. As I emerged into the next room, filled with participatory works that we were invited to touch, get into and wear, it became clearer still that this exhibition and indeed Abramović's work, is about bringing people in, close contact, a guilelessness and an unbridled, almost aggressive sharing of the self.
In this show, we start with this personal connection. The artist is present as you enter, caught between the gazes of Abramović on one wall and a revolving roster of the 1,545 who queued up to sit opposite her at MoMA New York in 2010, perhaps the high point of her practice, an exhibition so impactful it was immortalised in film. Titled 'Public Participation I', this room leads into 'Public Participation II', which takes us to another seminal moment in the artist's career, one which altered her view of the world around her and set her on her path, Rhythm 0, 1974.
The now infamous performance work staged in Naples in 1974, involved Abramović and 72 objects including cake, wine, a feather boa, a razor, knives and a gun. For six hours, visitors were allowed to do anything with objects and the artist, with Abramović stating, 'I am the object'. What followed can only have been a life-altering experience as while things started gently, as time progressed people spat on, cut, kissed, undressed her, gave her roses and put a loaded gun in her hand. She has since talked about the impression this experience left on her saying, 'It was six hours of real horror'.
The focus is on the era of Abramović's practice where she was both on her own and with her partner and collaborator Ulay, pushing themselves to the limit emotionally and physically. This endurance-based performance art she now teaches through her institute is at the heart of everything she does, pushing the body and the spirit to the absolute limit to the point of fainting, collapsing through physical pain, and revealing something of the artistic process and the life lived to facilitate them in a series of works captured on film and in photography. The sound of her and Ulay's cries echo through the space; is this an exorcism or a rageful scream into each other? As we see Abramović violently brush her thick, gorgeous hair repeating 'art is supposed to be beautiful', it is hard not to conclude that she is looking for something in the pain she is inflicting on herself and finding something there.
There is a darkness in the work throughout her career after she and Ulay end their relationship in their famous walk to each other, meeting at the centre of the Great Wall of China in The Great Wall Walk, 1988/2008, but the focus is different. It takes us from her work looking at the war in Yugoslavia, Balkan Baroque, 1997, to the famous The House with the Ocean View, 2002, where she lived for 12 hours a day in a three-room structure observed constantly for that time with only ladders made of knives for an escape.
The works meant for meditation and healing are for public participation, and those who stepped into her Shoes for Departure, 1991, where you press your forehead into one of the stone rests that make up Black Dragons, 1990, or pass through Portal, a doorway lined with crystals, really focus on getting something from the process. After the storm of the earlier works is the calm and the focus of the later works, interspersed with long-durational performance work. While this is at times a harrowing show, it is also filled with care and testament to the exhibition's opening statement, 'the spirit in any condition does not burn'.
'Marina Abramović' at the Royal Academy, 23 September 2023 – 1 January 2024
Receive our daily digest of inspiration, escapism and design stories from around the world direct to your inbox