Marina Abramović's debut NFT drop celebrates heroes of the Web3 era
The Hero 25FPS, a collaboration between Marina Abramović and digital art and culture platform Circa, will reward ideas that 'make the world a better, more beautiful place'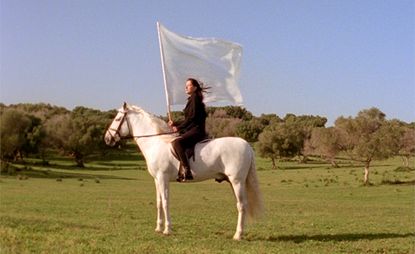 (Image credit: Image © CIRCA)
Wallpaper* Newsletter
Receive our daily digest of inspiration, escapism and design stories from around the world direct to your inbox
Thank you for signing up to Wallpaper. You will receive a verification email shortly.
There was a problem. Please refresh the page and try again.
The NFT hype may have dampened since its stratospheric rise in 2021, but Serbian artist Marina Abramović, ever the forward thinker, is looking beyond with the release of her first performance in the Web3 space. Launching Monday 25 July at 2pm UTC on the energy-efficient Tezos blockchain, The Hero 25FPS is a digital reworking of one of the artist's most personal and autobiographical works, featuring her stoically clad in black, astride a white horse and holding a large white flag.
'The Hero was filmed in 2001, around the time of the death of my father Vojo,' Abramović explains. 'He was a national hero from the Second World War and I wanted to create an homage to him.'
Abramović's debut NFT drop is a collaboration with the Cultural Institute of Radical Contemporary Art (Circa), which describes itself as 'a digital art and culture platform with purpose'. It coincides with the broadcast of The Hero on an international network of screens, spanning London, Seoul, Milan, Berlin, Japan and New York, at 20:22 local time every evening for three months.
'When [Circa artistic director and founder] Josef O'Connor invited me to participate in Circa 2022, I immediately thought of The Hero because right now, we are facing a Third World War. We never set out to create an NFT – it came as a surprise,' the artist says.
Originally filmed in PAL (4:3 aspect ratio), the video work required several months of post-production, each individual frame edited to adapt it for widescreen. 'I really wanted the image to envelop the audience,' says the artist. 'As with all my work, the audience completes the work. My first performance on the blockchain will invite people to collect either a single frame (.jpg) or a sequence of frames (.gif) to acquire time. They decide how much of the movement and experience they can have with the work.'
So why has the artist chosen to revisit a two-decade-old work – and what relevance does it have today? 'Right now, we are in such a strange moment in our world. We are destroying our planet where we live, our real home, the Earth, and there are all the wars that are going on in the world. We need heroes,' she asserts, naming Ukraine president Volodymyr Zelenskyy and climate activist Txai Suruí, the only Indigenous woman to speak at the COP26 climate conference, among her 'new heroes'.
The term Web3 (originally Web3.0) was coined in 2014 by computer scientist Gavin Wood, founder of blockchain infrastructure company Parity Technologies and a co-founder of Ethereum, to describe his vision for a decentralised and more democratic Internet. 'For me, the entire world has always been divided into two categories: originals and the ones who follow,' reflects Abramović. 'The originals are visionary – they're always thinking out of the box. And often in the time they are alive, they're not understood at all. Sometimes it takes years after they are dead, even hundreds of years, for them to be properly understood. Today, we need people with this vision to create new ways of learning and forms of art.'
Abramović has previously been vocal about her skepticism of NFTs, but draws parallels to the acceptance of video and performance art as new artistic mediums, which both faced similar criticisms and resistance in their early days.
'When we started to work in the immaterial [in the 1970s], galleries and museums couldn't sell anything because there was nothing [physical] to sell,' she says. 'Likewise, video was a mess when it was invented. Then came Nam June Paik and video art was born. Paik once said, "I think the best technology, information, has to do with our education – our thinking."'
For Abramović, the potential of Web3 extends beyond NFTs. 'In many ways, we are beginning to see how this new tool can make a difference in the world,' says the artist, citing Bail Bloc as an example. The app, developed by The New Inquiry magazine, allows anyone to volunteer computing power to mine cryptocurrency that is used to pay for Americans without bail funds to get out of jail. 'The work [Pussy Riot co-founder and social activist] Nadya Tolokonnikova is doing with UnicornDAO is also very inspiring to me,' Abramović adds. The cryptocurrency investment fund raised $6.7m for Ukraine earlier this year and recently launched legalabortion.eth, where people can donate crypto to be fully distributed to reproductive rights organisations following the US Supreme Court's reversal of Roe v Wade.
Similarly, Abramović is donating a percentage of the proceeds of her NFTs towards 'Hero Grants', inviting people working within Web3 to submit ideas 'that make the world a better, more beautiful place' via the Circa website. She says: 'I want to see what other ideas people have in this Web3 space to help save our planet. People who demonstrate heroic vision will then receive a grant in the coming months. The grants we shall award from The Hero 25FPS is my small way of contributing to this future.'
Ultimately, the artist is seeking to empower the next generation. 'The future of performance art sits within the hearts and minds of this new generation who are working with these new technologies. They are experimenting with this new Web3 space and testing its potential. They are taking risks and building new worlds,' says Abramović. 'We have to guide and nurture the future. I am not an expert [on Web3] but I am learning, and what I fundamentally understand is that blockchain technology provides artists with sovereignty over themselves and their work – this is very important to me. This is a very challenging time for young people, especially artists. Art is always going to exist. And in 2022, the white flag I held all those years ago stands for peace.'
INFORMATION
THE HERO 25FPS NFTs launch on Monday, 25 July 2022 at 2pm UTC. Visit nft.circa.art to register your interest in the public mint or apply for a Hero Grant. mai.art
Receive our daily digest of inspiration, escapism and design stories from around the world direct to your inbox