Collectable sound: The Serpentine Gallery and The Vinyl Factory release vinyls by artists Marina Abramović and Ed Atkins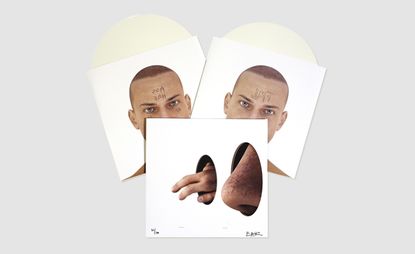 (Image credit: Press)
London's Serpentine Gallery has united with The Vinyl Factory (opens in new tab) to offer limited-edition audio keepsakes from two of its current exhibitions. The special vinyls, launched to coincide with 'Marina Abramovi (opens in new tab)ć (opens in new tab): 512 Hours (opens in new tab)' and 'Ed Atkins (opens in new tab)', not only solve the poster dearth created by performance and digital art shows, but push the notion of the souvenir far further, enabling visitors to take home the audio essence of each artist's sensory installations.
The vinyls are limited to 100 copies and are presented in a signed and numbered sleeve designed by each artist, making them collector's items. Abramović's edition features a recording of the Montenegrin American artist performing 'An Artist's Life Manifesto' recorded at the Serpentine Gallery in the days leading up to '512 Hours', which sees the artist perform within the gallery from 10am to 6pm, six days a week for the exhibition's duration. Track two captures the sounds of the void gallery space at 5pm on 6 June 2014.
Sample 'An Artist's Life Manifesto'
This is the first major performance by Abramović since her daily, three-month-long piece titled 'The Artist is Present' (opens in new tab) at the MoMA in 2010, in which visitors were invited to gaze into her eyes in complete silence for an unspecified amount of time.
Moving from real life to the cellular world, artist Ed Atkins works primarily with high definition video and text to subvert the conventions of moving pictures and literature.
In the case of his latest summer installation at the Serpentine Sackler Gallery, the British creative's two 12" vinyls play three audio tracks from his multi-screen, digital avatar installation 'Ribbons' (2014), as well as a specially produced live reading by the artist of his text, 'Hammering the bars'.
Sample 'Ribbons'