Hiroshi Sugimoto reflects on time and truth ahead of his London retrospective
As 'Hiroshi Sugimoto: Time Machine' opens at Hayward Gallery, the artist tells us of his guiding force, and why his Seascapes always end up in the bedroom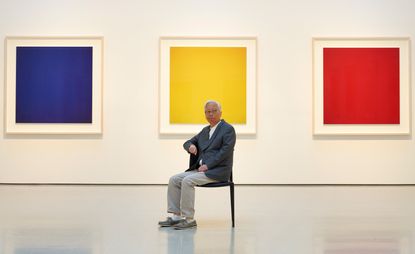 (Image credit: Photo: Rachael Smith)
It's fitting that Japanese artist Hiroshi Sugimoto is reflecting on time while sitting in front of a Seascape photograph – a minimalist expanse of seas and skies with paper-thin horizon that's timelessly unplaceable in history.
'I always think of the camera as a kind of time machine,' he says. 'I'm not looking to the future, I'm looking to the past, going back to study the origins of human beings and human civilisation. I want to ride in a time machine to go back and see the beginning.'
The idea of using the camera as a time-travelling vehicle to excavate his signature themes – the nature of time, human perception, the origins of human consciousness – underpins Sugimoto's new exhibition at London's Hayward Gallery (until 7 January 2024).
'Hiroshi Sugimoto: Time Machine' at Hayward Gallery
The biggest retrospective of the celebrated artist's work to date, the show – titled 'Hiroshi Sugimoto: Time Machine' – covers more than 50 years of his creative journey, viewed through the singular prism of his photography.
Sugimoto's work has long been unlimited in form – architecture, performing arts, calligraphy, sculpture, installation. Yet since the moment he first picked up his father's camera at the age of 12, photography has been his foundational medium of expression.
Through decades of experimentation, he has mastered the art of stretching, expanding and rearranging concepts of time, space and light, often using a 19th century-style 8x10 format camera, long exposures and black and white film. This is reflected symphonically in the new show, Sugimoto's first in London in over a decade.
There are abandoned theatres with white blasting screens containing an entire movie. Soul-soothing seascapes with horizons bisecting waters and skies. The life-like faces of wax model figures. Muted sunlight on the surface of Buddha statues.
The collections span the visual spectrum – yet are threaded together by Sugimoto's singular approach to the camera and its ability to record a perception-shifting 'truth' – albeit one often misted in ambiguity.
As Sugimoto explains, in an interview with Wallpaper* at Gallery Koyanagi in Tokyo: 'When I take a picture, I want to stop time and observe phenomena. Things keep moving, the world keeps moving – it's difficult to see what's going on behind it. To be sure, you have to stop time, stop the world and then see and observe the phenomenon. […] Photography is a very good tool to stop time.'
The new exhibition opens with Sugimoto's 1970s natural diorama in museums, which Sugimoto began after moving to the United States. 'I tried to make a dead diorama setting look like real life,' says Sugimoto. 'I was asking the question – what is life, what is death.'
Time – or timelessness – is the key protagonist in his iconic Seascapes series, whose textured frames of half seas, half skies around the world, evoke a near-spiritual sense of serenity.
Reflecting his desire to capture sea views both 'before human beings and after human beings', he explains: 'I started Seascapes in 1980. I travelled around the world and I tried to be in as remote places as possible from civilisation. Now, today, I always see some kind of human presence – a beautiful yacht or container. If I see any sign of civilisation I cannot shoot it.' He adds with a smile: 'Collectors usually hang Seascapes in the bedroom. Even though they have Murakami in the living room, Seascapes is better for peace of mind and for sleeping.'
Concepts of time are again centre stage in Theater (1976-) – a series of eerily empty movie theatres across the US, with a blasting white screen centre stage – which contains, in a single shot, the condensed visuals of an entire movie. 'Every morning I remember my dreams – but then five minutes later it goes,' he says. 'But sometimes I remember very clear, very impressive dreams – and sometimes I make a note and it's the source of my art.
'My Theater series started in 1976 and, like Martin Luther King, I had a dream! I had a vision of a theatre with a shining screen. I was asking myself, what would it be if I exposed photography for an entire film? The answer was not a word – it was a vision. A kind of religious, concentrated light, splashing out of the screen.' He adds: 'I've always been guided by some kind of force, I don't know what it is. At least I never get tired of my art. It is not called a god – but some kind of force is guiding me, I strongly feel.'
Sugimoto's photographic journey continues with projects including his Architecture series (1997-), with iconic modernist buildings blurred into ambiguous abstraction; Sea of Buddhas (1995-), capturing 1,001 gilded wooden statues of Buddhas in a 12th century Kyoto temple; and Lightning Fields (2006-), dynamic light bursts on black, in camera-less photographs created by exposing sensitised paper to electrical impulses produced by a Van der Graaf generator.
One gallery at Hayward is dedicated to Opticks (2018-), photographs capturing brilliantly intense prism-refracted shades of light, alongside the dynamic lines of two aluminium sculptures, reflecting his meditations on mathematical equations and abstract forms. Another highlight is his Portrait series (1999-), which captures with perception-nudging precision the lifelike features of Madame Tussaud's historical wax figures, from Henry VIII to Princess Diana.
'Wax portraits were a pre-photography invention, to make a record of what happened,' he says. Referring to 18th century Benjamin Franklin, America's first ambassador in France, he adds: 'Madama Tussaud poured wax directly onto his face and made a wax cast. So it's quite reliable – you can imagine how he looked. The concept is exactly the same as photography – the cast is a negative, the wax figure is a positive.'
As Sugimoto approaches his 76th birthday, there are no signs of his slowing down. Hanging on the walls of Gallery Koyanagi is Playing with Fire, depicting his new Brush Impression series, a dynamic dialogue between fire, calligraphy and photography. Just like his creations, the conversational flow playfully skips through a wild range of topics – his meditations on approaching death; his love of jetlag and loneliness to 'let my spirits fly around free'; the John Lennon song 'Imagine' (which he believes was inspired by the Buddhist concept of 'ku' emptiness); and how he likes to sleep alongside his collection of ancient Heian artefacts.
And just like his works, there is again a thread, connecting it all together – as he says himself, summing up his ongoing creative journey: 'The origins of human consciousness is my main theme. Nothing has been planned. Everything is related but it's all coincidences and chain reactions.'
'Hiroshi Sugimoto: Time Machine' at the Hayward Gallery, from 11 October 2023 to 7 January 2024
Receive our daily digest of inspiration, escapism and design stories from around the world direct to your inbox
Danielle Demetriou is a British writer and editor who moved from London to Japan in 2007. She writes about design, architecture and culture (for newspapers, magazines and books) and lives in an old machiya townhouse in Kyoto.
Instagram - @danielleinjapan