Spiritual side: Hiroshi Sugimoto explores space and time with his 'Sea of Buddha'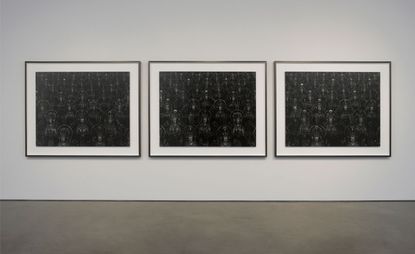 (Image credit: Tom Barratt)
Photographer Hiroshi Sugimoto has long received attention for his introspective and immersive images, which reveal time, light and atmosphere while being frequently embedded with art historical monuments and sculptural figures (such as of the revered Buddha). In fact, he has deemed his distinctive black and white oeuvre as revealing 'one of the most abstract concepts human beings have created'. Now these mesmerising images – as well as his first video – are spotlit in a new exhibtion, 'Hiroshi Sugimoto: Sea of Buddha', which opened at Pace Gallery in New York this week.

On view is the latest rendition of his Sea of Buddha series, which Sugimoto first conceived in 1988 but realised over the course of 20 years. Also on show are five images from his iconic 1980 Seascapes series in which the horizon divides sea and sky in diverse locales and atmospheric conditions.

The Sea of Buddha series was first exhibited at the Metropolitan Museum of Art. 'I have always dreamed of producing this series in mural size prints,' says Sugimoto, 'so that the Buddhas would be depicted in life size.' At Pace, each triptych measures a staggering 4 ft by 5 ft.

Unlike the overwhelming number of photographers who snap series imagery near instantaneously and on the spot, Sugimoto works at a far more measured pace. 'It has taken me seven years to complete the body of work that is being presented at Pace Gallery,' he explains.

Sugimoto's first video project, Accelerated Buddha, further reveals his penchant for exploring time. He both blurs and layers the images of Buddha, so that they appear to fade into each other at an ever-increasing pace.

The show is the latest in a spate of recent exhibitions that have reiterated the artist's worldwide renown. This month, the Barcelona Fundación MAPFRE will also hold a retrospective, entitled 'Hiroshi Sugimoto: Black Box'.
INFORMATION
'Hiroshi Sugimoto: Sea of Buddha' is on view until 5 March. For more information, visit Pace's website

Photography: Tom Barratt. Courtesy of Hiroshi Sugimoto and Pace Gallery
ADDRESS
Pace Gallery
510 West 25th Street
New York, New York