Damien Hirst and Miuccia Prada's Doha desert juice bar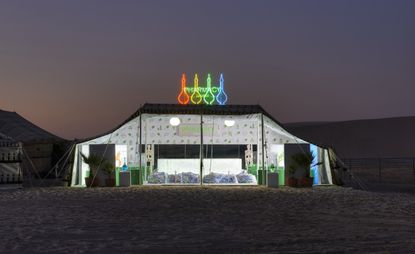 (Image credit: TBC)
To celebrate the arrival of Damien Hirst's 'Relics' retrospective (opens in new tab) to Doha's Al Riwaq Exhibition Space, the British artist teamed up with Miuccia Prada to create an unexpected desert mirage in the form of a pop-up juice bar in Qatar last week.
Located within a nearby Bedouin tent, the 'Prada Oasis and Damien Hirst's Pharmacy Juice Bar' came decked out as a drug store, acting as a reinterpretation of the artist's late 1990s 'Pharmacy Restaurant', and accompanied a nearby Prada boutique, similarly housed within a traditional tent made from sheep hair.
Hirst and Prada first met in 1996 at the 'Art/Fashion' exhibition, curated by Germano Celant and Ingrid Sischy in Forte Belvedere, Florence. And although former Prada art extensions such as Elmgreen & Dragset's 'Prada Marfa' store (opens in new tab) installation in Marfa, Texas were not in fact shoppable, for this project Mrs Prada crafted 20 limited edition 'Entomology' Plexiglas bags, encasing bejewelled beetles.
As the Qatar Museum Authority's director of public art, Jean Paul Engelen explained, the project 'sought to create an out-of-the-ordinary place which, for just two days, provided a totally unique experience in the Arab landscape'.
The collaboration between Mrs Prada, Damien Hirst, and Sheikha Al Mayassa bint Hamad Al-Thani, chair of the QMA, saw the proceeds from the sale of the bespoke bags dedicated to the Sheikha's Reach Out To Asia non-profit organisation (opens in new tab) that aims to improve youth access to education in Asia and the Middle East.
ADDRESS
The exhibition is located at Al Riwaq Doha Exhibition Space (opens in new tab), on Al Corniche, next to the Museum of Islamic Art
VIEW GOOGLE MAPS (opens in new tab)