Fashion's finest moments at Frieze Los Angeles 2022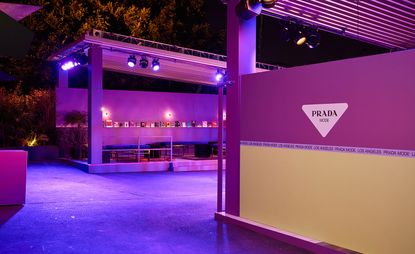 (Image credit: Prada)
After a two year hiatus, Frieze Los Angeles 2022 has returned in sun-drenched splendour. And it's not just the art world that's ecstatic, fashion folks also returned to the City of Angels with a host of events and pop-ups celebrating the luxury, jewellery and art worlds coming together. Here we round up our highlights.
Frieze Los Angeles fashion moments: Prada
Prada returns to Los Angeles with the seventh iteration of Prada Mode, a travelling private club which has popped up in Miami, Paris, London, Moscow, Shanghai and Hong Kong at events celebrating Art Basel and Haute Couture. At Fairfax Avenue's famed Sichuan Chinese restaurant and music venue Genghis Cohen, artist Martin Syms presents the interactive text and video installation 'HelLA World', which alludes to the casual conversations with strangers, encouraging guests to contribute messages, gossip, status updates and musings. Monitors wrapping the space will project and make public exchanges that are communicated via phone, some spontaneous, some scripted.
Matchesfashion
In celebration of its longtime partnership with Frieze, Matchesfashion sojourned Stateside, touching down on the West Coast with an exciting schedule of events, hosted at the Howard Frank-designed mid-century Simon House, in the Trousdale Estates area of Beverly Hills. On their remarkable roster? Cocktails with Alexander Mcqueen, a New History Makers luncheon in collaboration with Roberts Projects Gallery and a Vibe Called Tech and a dinner in celebration of L'Objet and Haas Brothers 2.0 collection.
Alighieri
Alighieri's Rosh Mahtani first met Brazilian painter Samuel de Saboia during Paris Fashion Week, and for Frieze Los Angeles 2022, the two have paired up on 'Armor of Light, Heart of Clay', an installation focused on paralleling diasporic experience, which features 33 one of a kind wax sculptures – symbolised as fragments of modern armour – displayed in a brushstroke heavy universe of de Saboia's making. The West Hollywood exhibition features a large-scale painting that nods to the London jewellery label's love of prehistoric history and archaeology. A depature from de Saboia's idiosyncratically colourful paintings, the installation also features salient black figures, symols of revelation, guiding viewers through the human experience.