Damien Hirst's art goes up in flames at 'Burn Event'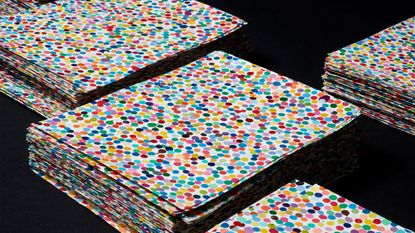 (Image credit: Photographed by Prudence Cuming Associates Ltd.   Damien Hirst and Science Ltd. All rights reserved, DACS 2022)
In July 2021, Damien Hirst took a poll to the art community: in The Currency he sold 10,000 NFT artworks, then gave collectors a choice between keeping that or swapping it for a physical version of the piece. The results were close, but teetered on the side of reality – with 5,149 collectors opting for the paper artwork, and the remaining 4,851 sticking to its NFT counterpart. The sale was a test of the perceived value of the NFT, taking in the views of art world collectors and Hirst fans alike. The un-chosen artworks' fate lay in mass destruction; the NFTs have already been destroyed, and – in a ritualistic exodus started by Hirst on 11 October 2022 – the remaining paper works are in the process of being burnt publicly, ongoing until 30 October.
In Hirst's Newport Street Gallery, a line trails around the walls, a slight smoky smell in the air; whether that be for theatre or a genuine drift from the upper floors where the burning is taking place, it definitely adds to the anticipation. It's clear his fans have gathered together for this termination of works, and the excitement builds from the fact that we're given only ten minutes to witness the artworks' celebrity status climb, only to be slashed in one fiery swoop.
Once we're in the room, every minute or so another dotted rectangle of paper is thrown into a fire, either by Hirst or one of his team. The six pillars of fire, and the remnants of – at this point likely thousands, if not millions of pounds' worth of art – are absolutely boiling. Each piece sold as an NFT originally for £2,000, then the 'rejected' paper versions ended up in a pile, ready to be burnt. One thousand of the paper works being destroyed actually come from Hirst's own selection (he's retained the NFT version of these). Among them, he lists The arboreal cat and With another salute before dropping them in the flames – each artwork has its hand-written name scrawled on the back and is signed along with a holographic mark of its status.
The ironic twist to Hirst's performances is part of his act – and part of his art. The intentional disregard he's shown for the value of his artwork in 'Burn Event' reminds us that he knows his worth, and he knows how to amp it up, too – with current bids for the surviving paper artworks hitting over £9,000 online.
Martha Elliott is the Junior Digital News Editor at Wallpaper*. After graduating from university she worked in arts-based behavioural therapy, then embarked on a career in journalism, joining Wallpaper* at the start of 2022. She reports on art, design and architecture, as well as covering regular news stories across all channels.