Chiharu Shiota's 'labyrinth within a labyrinth' at Copenhagen's Cisternerne
Chiharu Shiota has become the latest artist to take over the arched depths of Copenhagen's Cisternerne. Titled Multiple Realities, her installation is a poetic landscape of web-like yarn, both serene and unsettling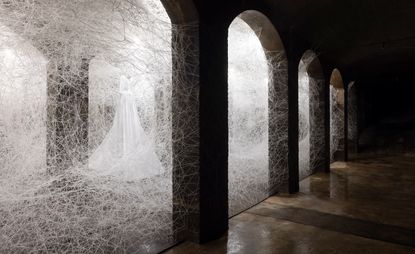 (Image credit: Torben Eskerod)
Chiharu Shiota has amazed us again, perhaps more than ever, with a monumental installation in the eerie underworld of the Cisternerne, a subterranean art space in Copenhagen that was once a reservoir.
'I tried to create an illusion in this otherworldly environment; a labyrinth within a labyrinth,' says the Berlin-based Japanese artist. At the invitation of curator Astrid la Cour, Shiota first visited the museum three years ago during Jeppe Hein's exhibition 'In is the only way out', and was inspired by space. 'This place is absolutely unique in its architecture and presence of water. And it gives the invited artists total freedom to choose whichever material. Jeppe was using fire! I instantly had the idea to play with water; flowing and dynamic water that makes us feel the force of life.'
Titled Multiple Realities, Shiota's installation is the latest iteration in the Cisternerne's all-star series of annual site-specific commissions, which has previously featured Tomás Saraceno (W*254), Superflex, Hiroshi Sambuichi and Eva Koch. It spreads out over 1,000 sq m of underground space, where water drips down stone walls and alcoves and flows slowly across the floor.
Shiota is known for her delicate cobweb-like compositions made of entangled yarn. 'Weaving a web is, for me, an alternative to drawing,' she explains. 'I used to draw and paint, yet struggled to find my own mode of expression. I realised that most themes have been already explored as two-dimensional static art. But when I started to draw in the air with a single yarn, knotting and developing spontaneously, I finally found my signature.' Though she often combines the web with anonymously donated everyday objects such as keys, chairs and clothes, this time she has created something new.
The Cisternerne, which once supplied drinking water to all of Copenhagen, was transformed into a space for contemporary art in 2013. Through a small, angular glass pyramid entrance in the middle of Søndermarken Park, visitors are invited to descend the stairs towards the vast rectangular chambers. It's there that they are wowed by the poetic landscape of Shiota's white web, which is almost divinely luminous against the otherwise gloomily lit environment. On closer inspection, a long, lean silhouette of a white dress becomes visible, imprisoned behind the flood of white yarn. Welcome to Shiota's universe. 'The serene atmosphere here contrasts with the dynamic elements to follow,' she explains.
Following the metal walkways, installed especially for this show, we encounter a ceiling-mounted red sculpture, rotating and making a buzzing sound. It is made of a few geometrically shaped metal tubes and covered with red yarn. The motion is reflected in an adjacent mirror, and also in the water beneath. Further down, a white dress, similar to the one behind the web, hangs from the ceiling and rotates, stirring the water below and causing a splash. Another dress, in blood-red, is likewise in motion, playing with the water.
The further we go, the more dresses and sculptures appear in a crescendoing sequence. The show features seven nylon dresses in all, each in red or white, and each almost 3m-long including the train. Though Shiota's designs evoke simplified 19th-century costumes, she says she didn't seek to reference a specific historical style. Rather, her goal was to create a shelter to envelop a body – 'presence by absence', as she calls it. 'The dresses are all alone. Their wearers are missing,' she says. 'But a hint of their existence is in the air. The water, not stagnated but in movement, means vitality. Visitors can see them from every angle, and thus feel multiple realities.'
Alongside 'presence by absence', another of Shiota's manifestos is the 'expression of silence'. An artist of few words, she expresses herself through her installations instead of speaking in public, an approach that calls to mind the Japanese notion of 'beauty in silence'. In another Japanese cultural reference, the idea of celebration could be read in this exhibition, suggested through the colour combination of red and white. However, as the artist affirms: 'My work is not necessarily anchored to my Japanese origin.'
More evidently, her artistic motivation is based on deep thoughts about human nature, 'because it is universal and fundamentally questioning. Death is always present around us. Sometimes the departed ones manifest a stronger presence than [during] their lifetime,' she says. 'When I was kid, my parents took me regularly to their hometown in Kochi [on Shikoku island, in south-west Japan] and we visited the cemetery where my late grandmother is buried. She was not cremated, which is uncommon in Japan. There, we observed the ritual of removing overgrown weeds from the grave, but I was scared to wake her up from the land where she is resting.'
Shiota has opened up in past interviews about her serious illness in 2005, which profoundly influenced her work. Even with life and death on her mind, her installations are not violent or heavy, but poetic and dreamy.
'For each show, my preparation is really intense. I have to focus, especially on web-weaving. After installing [the work] – the longest it has taken is two weeks – I feel like a shadow of myself, completely frazzled. I just need to sleep and rest.' This time, over ten installation days, she and her team patiently wove the web, starting from the ceiling toward the endless void, using 160km of yarn in total. The rotating effect of her dresses and sculptures reflects two years of experiments in her workshop during the Covid-19 pandemic. 'We did considerable [and] painstaking research on the right balance of the weight, speed and centrifugal force of the objects,' she recalls.
Now the emotion-laden show is ready. 'This exhibition is a special experience,' says Shiota. 'You might be thrilled to feel lost, without knowing any longer where or when it is.'
INFORMATION
'Multiple Realities', 13 March - 30 November 2022 at Cisternerne, Copenhagen, frederiksbergmuseerne.dk (opens in new tab); chiharu-shiota.com (opens in new tab)
This article will appear in the May 2022 issue of Wallpaper*(W*277), on newsstands and available to subscribers from 8 April 2022
Minako Norimatsu is a Japanese journalist and consultant based in Paris. Extremely curious about everything creative, her field ranges from fashion to art, dance, hospitality and travel. She has interviewed many Japanese fashion designers and artists for Wallpaper*, as well as non-Japanese creatives whose inspirations are drawn from Japan.