Before and after: a history of the world's most extraordinary art spaces
Past lives: we track down the most distinctive, weird and wonderful art exhibition spaces around the world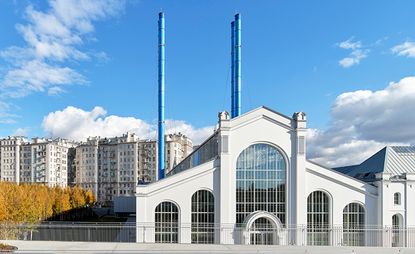 (Image credit: press)
From resurrected churches to roller skating rinks and subterranean reservoirs, we reflect on the past lives, and reincarnations of the world's most extraordinary contemporary art spaces. Explore the untold history of art.
Von Bartha
Past life: a lighthouse
Location: Copenhagen
Von Bartha recently became the first international gallery to open a space in Copenhagen. Located at Pasteursvej 8, its distinctive building includes a listed former lighthouse (officially known as Kridttårnet) in the Carlsberg region of the city, developed for the brewer in the 19th century by founder Carl Jacobsen.
Marking its first location outside Switzerland, von Bartha's new space continues the gallery's track record of striking architectural transformations, with von Bartha's original Basel space housed in a former petrol station. The new Copenhagen location comprises 75 square metres of gallery space with an outdoor courtyard for sculpture and was inagurated with group show, 'An Outline Taking Shape to Become a Profile'.
GES-2 House of Culture, V-A-C Foundation
Past life: a tram power station
Location: Moscow, Russia
V-A-C Foundation's GES-2 House of Culture, Moscow was one of the most hotly anticipated openings on the 2021 art calendar. Reimagined by Renzo Piano and over a decade in the making, the former power station is located on the Bolotnaya Embankment, a hotbed for industrial redevelopments and stone's throw from the Kremlin. Built between 1904 and 1908 to power the city's tram system, the building was designed in the Russian Revival style by architect Vasili Bashkirov.
Piano's space is a 41,000 sq m canvas of white and grey, save for the bold blue of the pipework, a hangover from the building's previous life. GES-2 was founded on the idea of a Soviet House of Culture, and was inaugurated by Icelandic artist Ragnar Kjartansson in December 2021. His performative work, Santa Barbara – A Living Sculpture, is a bold, theatrical piece examining the complex relationship between Russia and the US.
The Center for Contemporary Art, Tashkent
Past life: a diesel power station
Location: Tashkent, Uzbekistan
The building that now houses The Center for Contemporary Art Tashkent (CCAT) is where electrification of the city began, and where Uzbekistan's contemporary art landscape is now being regenerated. Designed by architect Wilhelm Heinzelmann in 1912, the facility was a diesel power station operating Tashkent's first tram line, and Tashkent City Enterprise of Electric Grids following the 1917 Russian Revolution. In 2019, a year after the building transferred to Uzbekistan's ministry of culture, CCAT became the country's first centre dedicated to modern and contemporary art, which aims to develop contemporary culture throughout Tashkent and Central Asia. Beyond exhibitions, the centre is a hub for performances, cinema screenings, art residencies and seminars.

Its recent exhibition, 'Dixit Algorizmi' traced the roots of modern-day algorithms to the historic mathematician and Father of Algebra, Muhammad ibn Musa al-Khwārizmī. Curated by Joseph Grima, the show featured work by artists, musicians, filmographers, architects, designers and theorists.
Public Tobacco Factory
Past life: a tobacco factory
Location: Athens, Greece
Top: Nikos Navridis, Try again. Fail again. Fail better, 2013, courtesy the artist, NEON and Bernier/Eliades Gallery. Installation View 'Portals', Hellenic Parliament + NEON at the former Public Tobacco Factory. Above: Former Public Tobacco Factory – Hellenic Parliament Library & Printing House (pre-renovation)|
In the 19th century, tobacco served as one of Greece's most important exports. In Athens, the Public Tobacco Factory, constructed in 1930 to cultivate this coveted crop, has recently been transformed into a stage for world-class international art. 'The former Public Tobacco Factory building is an iconic structure in the city centre, a symbol of the country's path to industrialisation and, at the same time, a footprint of its architectural heritage,' says Elina Kountouri, co-curator of the recent exhibition 'Portals' and director of Neon, the non-profit arts organisation founded by collector and entrepreneur Dimitris Daskalopoulos who co-organised the show and renovated the historic building.
Though the story begins with tobacco and ends with world-class contemporary art, the shapeshifting industrial building has demonstrated versatility over its near-century history. It's done time as a prison, been a Second World War air-raid shelter, housed Romanian refugees, been home to the Greek Cabinet Office, the Ministry of Finance, and its present occupant, the Hellenic Parliament, with which Neon collaborated for 'Portals', which includes new commissions by Glenn Ligon, Duro Olowu, Teresa Margolles, Michael Rakowitz, Danh Vō and Chrysanthi Koumianaki.
Fruitmarket gallery
Past life: a fruit and vegetable market
Location: Edinburgh, Scotland
There's at least one clue in the name: this Edinburgh art centre was once home to a fruit and vegetable market. The gallery combines two former market buildings: one built in 1889, and one in 1938. The latter was converted into a gallery in the 1970s by John L Patterson, with one part serving as a Scottish Arts Council venue.

The Fruitmarket soon became a hub for the who's who of 20th-century art, with solo shows by the likes of Richard Hamilton, Frank Stella, Willem de Kooning, Henri Cartier-Bresson and David Hockney. In 2021, the Fruitmarket still finds itself on the cutting edge of contemporary art following a two-year redesign, expansion and refurbishment at the hands of Reiach and Hall Architects. The vast industrial gallery reopened in 2021 with a reimagined retrospective by Turner Prize-nominated artist Karla Black.
MAAT Museum
Past life: A thermal power station
Location: Lisbon, Portugal
On the banks of the River Tagus, Lisbon, there's a conversation happening between two entirely different buildings. Though a century apart, they do have one thing in common: the Museum of Art, Architecture and Technology.

Built in 1908, Central Tejo was a thermal power station that supplied the entirety of Lisbon with electric power, operating non-stop between 1909 to 1954. The iron and brick-covered building, typical of late 19th-century 'electricity factories', draws on a mix of influences, from Art Nouveau to classicism. In 1990, it opened to the public as the Electricity Museum, offering a journey through the history and evolution of electricity production, technological feats in renewables, and the EDP Foundation art collection, dedicated to contemporary Portuguese artists
Also on the industrial EDP Foundation campus, but at the opposite end of the architectural spectrum, is a building housing the Museum of Art, Architecture and Technology (MAAT). Designed by British architecture studio AL_A (Amanda Levete Architects) and opened to the public in 2016, the low-slung structure, comprising 15,000 three-dimensional tiles, can be walked over, under or through, and reflects the institution's convergence of contemporary art, architecture and technology. Among those who have exhibited at MAAT are Pedro Reyes, Lawrence Weiner, Grada Kilomba and Tomás Saraceno.
Baltic Centre for Contemporary Art
Past life: A flour mill
Location: Gateshead, UK
On the south bank of the River Tyne in Gateshead sits a former flour mill re-imagined as the UK's largest contemporary art institution. Completed in 1950, it was built by food giant Rank Hovis to a late-1930s design by architects Gelder and Kitchen. The mill closed in 1981 and lay derelict for over two decades. The idea of Baltic as we know it today was conceived in 1991 when Northern Arts (now Arts Council England North East) announced plans for a 'major new capital facilities for the Contemporary Visual Arts in Central Tyneside'.

Under the guidance of Baltic's inaugural director Sune Nordgren, the focus officially shifted from flour to contemporary art. Construction began in 1998 spearheaded by Ellis Williams Architects and comprising six main floors, three mezzanines, and 3000sqm of arts space including studios, a cinema/ lecture space, shop, library, archive and rooftop restaurant. In 1999, there was a pause in construction, during which time the building got its first taste of art. Anish Kapoor was commissioned to create Taratantala, a colossal site-specific artwork, that occupied the vast, void-like space.

Baltic Centre for Contemporary Art opened in 2002. The inaugural exhibition, 'B.OPEN', featured work by Chris Burden, Carsten Holler, Julian Opie, Jaume Plensa and Jane & Louise Wilson. Since then, Baltic has launched an artist award, and presented over 226 exhibitions of work by 476 artists of 64 nationalities including Holly Hendry, Judy Chicago, Ryan Gander, Lubaina Himid, Adam Pendleton and Lorna Simpson.
Wiels
Past life: A brewery
Location: Brussels, Belgium
In 1862, following attempts at trading in baked goods and cloth, the Belgian Wielemans-Ceuppens dynasty ventured into beer. Following rapid expansion and a quest for innovative techniques, the family invested in a brand new flagship brewing hall, one that would become the largest in Europe and a landmark on the Brussels urban landscape. Designed in 1930 by architect Adrien Blomme and praised as a 'perfect example of modernism' the striking building (also known as the Blomme building or the Wielemans tower) still brims with traces of its industrial past.

During 2005-2008 renovations, some of the brewery's original operational features were restored, such as copper vats and tiling in the brewing hall. In 2007, the building took on new life as a centre for contemporary art. In addition to 19,000 sq ft of exhibition space, the building hosts an auditorium, studio workshops for artists-in-residence, and a café and bookshop in the titanic brewing hall. Among those who have presented work in this laboratory of contemporary art are Wolfgang Tillmans, Yayoi Kusama, Franz Erhard Walther, Mark Leckey, Luc Tuymans and Rita McBride.
TJ Boulting
Past life: an ironmongery and sanitaryware manufacturer
Location: Fitzrovia, London
Originally founded in 1808, furnishing ironmongers TJ Boulting & Sons were responsible for the manufacture of range and stoves alongside gas, electrical, sanitary and hot water engineering. Sited on a corner in the heart of Fitzrovia, its Arts and Crafts building is still inscribed with the original Art Nouveau lettering in gold and green mosaic tiles. The company, which moved into the building in 1903, has something of an intriguing claim to fame, said to have fitted the first flushing loo in Windsor Castle, before the more widely known Thomas Crapper made his mark.

In 2011, inspired by the building's roots, Gigi Giannuzzi and current director Hannah Watson established TJ Boulting as the new gallery space of publishing house, Trolley which specialises in photography, photojournalism and contemporary art titles. Over the last decade, the gallery has carved a reputation for dynamic shows of emerging and mid-career artists. Previous exhibitions include Dominic Hawgood's shape-shifting 'Casting Out The Self v3.1' and 'Birth', curated with Charlotte Jansen.
La Patinoire Royale - Galerie Valérie Bach
Past life: a roller skating rink
Location: Brussels, Belgium
This is a gallery with a big claim and quite a few past lives. Constructed in 1877 as Royal Skating, it became one of the world's first roller skating rinks, in a time when popularity for the recreational sport was at an all-time high. In 1900, roller skate wheels turned into car wheels as the space transformed into a Bugatti garage, and later a weapons depot during World War Two. Built in an ornate Neoclassical style, the building's facade is punctuated by distinctive circular and arched windows, flooding the interior space with a sea of natural light. In 2015, gallerist Valérie Bach acquired the space, enlisting John-Paul Hermant architects to transform it into a hub for Belgian and international Modern and contemporary art with a focus on kinetic installations and abstraction. The 3,000 sq m internal space, masterminded by Pierre Yovanovitch, has since hosted striking contemporary art interventions by the likes of Joana Vasconcelos, Carlos Cruz-Diez and Martine Feipel and Jean Bechameil.
KW Institute for Contemporary Art
Past life: a margarine factory
Location: Berlin, Germany
KW is widely known as a cultivator of radical contemporary art, but one might be less familiar with the unexpected past life of its building. The original Baroque structure was built for residential purposes in 1794 and remains one of the oldest buildings in Berlin's Auguststraße. Its transverse wing was built in 1877 for industrial use, most recently, as a margarine factory called Berolina Margarinefabrik during the German Democratic Republic era.

In 1991, Klaus Biesenbach, Alexandra Binswanger, Philipp von Doering, Clemens Homburger, and Alfonso Rutigliano saw the potential in this crumbling factory as a platform for provocative avant-garde art. Its global reputation has since been cemented by landmark thematic shows including 'Berliner Chronik' (1994); 'One on One' (2012/13); 'Fire and Forget. On Violence (2015)'; and 'The Making of Husbands: Christina Ramberg in Dialogue' (2019/2020) and major solo shows by Kader Attia, Ceal Floyer, Carsten Höller, Lynn Hershman Leeson, Petrit Halilaj and Adam Pendleton. To hail the institution's 30th anniversary in 2021, KW hosted a series of new commissions and exhibitions by the likes of Renée Green and Susan Philipsz. Responding directly to the building, artist Sissel Tolaas created a limited-edition soap composed of particles collected at KW.
Pirelli HangarBicocca
Past life: a locomotive factory
Location: Milan, Italy
When it comes to scale, there's nowhere quite on par with the sheer enormity of Pirelli HangarBicocca. The site once occupied one of the most burgeoning industrial centres in Milan, spearheaded by engineer Ernesto Breda in 1886. This vast complex of factories, which included tyre manufacturing giant Pirelli, produced railway carriages, electric and steam locomotives and was later adapted to manufacture aeroplanes and projectiles during the First World War effort. One factory was HangarBicocca, a gargantuan 15,000 sq m space comprising three main areas.

In 2004, after a decade of neglect, Pirelli transformed the space into a non-profit art foundation staging major annual solo shows and permanent installations. Many indicators of the building's industrial past are still intact. The 30-metre-high, 9500 m sq Navate, constructed between 1963 and 1965 still has visible traces of the rails used to test locomotives, and now hosts Anselm Kiefer's monumental permanent installation The Seven Heavenly Palaces, commissioned for the foundation's opening. There's no doubt that a space like this takes a particular blend of courage, ambition and vision to fill. Among those who have surmounted the task to jaw-dropping effect are Philippe Parreno, Ragnar Kjartansson, Kishio Suga, Marina Abramović, Joan Jonas and Cerith Wyn Evans.
Cisternerne
Past life: a subterranean reservoir
Location: Copenhagen, Denmark
If it weren't for the world-class art installations, the uncanny depths of Copenhagen's Cisternerne might be akin to a cathedral crypt or The Chamber of Secrets. The ex-subterranean reservoir was built from 1856-1859 to improve the water supply to the Danish capital and became defunct in 1933. It was deserted for decades before starting a unexpected new life in 2001 as The Museum of Modern Glass Art. In 2013, it was acquired by the Frederiksberg Museums and has since played host to ambitious annual art installations with globally-renowned contemporary artists. As exhibition backdrops go, there is nowhere quite like the challenges of the Cisternerne. Among those who have stepped up to the task to dizzying effect are Jeppe Hein, Eva Koch, Ingvar Cronhammar, Superflex, architect Hiroshi Sambuichi and most recently, Tomás Saraceno.
E-Werk
Past life: a coal power station
Location: Luckenwalde, Germany
The transition from power station to art gallery is a fairly well-trodden path, and though E-Werk may not have the show-stopping scale of Tate Modern or Shanghai's Power Station of Art, unlike the aforementioned institutions, it still generates power. The building was constructed in 1913 as a coal power plant and shuttered its doors soon after the fall of the Berlin Wall. 30 years later, the space was resurrected by Artist Pablo Wendel and his not-for-profit arts organisation, Performance Electrics, as explored in Wallpaper's October 2019 issue (W*247). E-Werk offers residential programmes, workshops, studio space for artists, exhibitions, and its own, patented power source: Kunststrom (art electricity) harnessed through wood chip-burning machines still compatible with the building's pre-existing infrastructure - an electric fusion of art and power.
Planta
Past (and present) life: an industrial gravel pit
Location: Lleida, Spain
An industrial complex on the northern edge of rural Catalonia is perhaps the last place one might expect to stumble across an Anselm Kiefer, or a Bill Viola. But coexisting with the daily buzz of lorries and cranes shuttling around mounds of gravel, are spaces dedicated to site-specific contemporary art. Planta is an innovative project on the intersection of art, science, architecture, and enterprise. It's managed by Fundació Sorigué, the foundation of the Sorigué Business Group, who, aside from a zest for contemporary art, focus on material science research and sourcing sustainable building materials. Sites include an enormous hangar which plays host to Spanish sculptor Juan Muñoz's Double Bind (previously exhibited in Tate Modern's Turbine Hall) and an ex-air raid shelter (constructed during the Spanish Civil War) which houses a video installation by Bill Viola. Others who have exhibited in this lunar-like industrial landscape include Tony Cragg, William Kentridge, and a project with Chiharu Shiota is in the pipeline.
König Galerie – St. Agnes Church
Past life: a brutalist church
Location: Berlin, Germany
König Galerie has a track record for tracking down unusual gallery spaces. Their London space was, after all, an underground car park until 2017. But six years before then, they took on the challenge of turning the heritage-listed St. Agnes – a former Catholic church and built in 1967 by German architect and post-war modernist Werner Düttmann – from dilapidated brute into a striking stage for international contemporary art. Sited in the Kreuzberg area of Berlin, St. Agnes comprises a former chapel and nave which were artfully transformed from church to gallery by architect Arno Brandlhuber. Among those who have taken full advantage of the gallery's light, lofty and utterly monumental proportions are Claudia Comte, Elmgreen & Dragset, Camille Henrot and Katharina Grosse.
Arquipélago
Past life: an alcohol factory
Location: Ribeira Grande, São Miguel, Portugal
In 2015, a 122-year old industrial volcanic stone and timber building in the town of Ribeira Grande on the Portuguese island São Miguel Island went from alcohol factory, to 'culture factory'. The building was reborn as the Arquipélago Centre for Contemporary Arts, an interdisciplinary creative hub, at the hands of Portuguese architects Menos é Mais Arquitectos Associados and João Mendes Ribeiro. Located in the middle of the Atlantic, The Azores are known as a portal between Europe and the Americas. The centre takes its name from the nine islands that form the archipelago, and has a mission to 'observe, stimulate, disseminate' through a programme of visual art exhibitions, workshops, performances, concerts and artist residencies. Arquipélago is a harmonious, and forward-looking fusion of geography, eras and creative disciplines.
Harriet Lloyd-Smith is the Arts Editor of Wallpaper*, responsible for the art pages across digital and print, including profiles, exhibition reviews, and contemporary art collaborations. She started at Wallpaper* in 2017 and has written for leading contemporary art publications, auction houses and arts charities, and lectured on review writing and art journalism. When she's not writing about art, she's making her own.