Inside E-Werk, a defunct Berlin power station turned off-the-grid contemporary art centre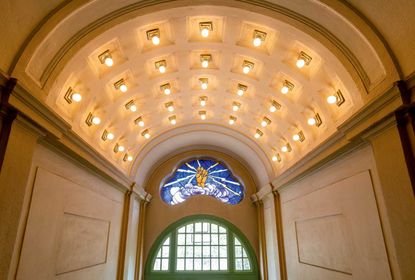 (Image credit: Stefan Korte)
With its rows of workers' cottages, Bauhaus swimming baths, factories and power station, Luckenwalde near Berlin was once a sleepy yet productive suburb in what was then East Germany. Beyond industry, nothing much happened. When the Berlin Wall came down 30 years ago, nothing much became nothing at all. The E-Werk power station closed and became a centre for post-unification reintegration. Locals were educated in labour laws, service culture and home economics, and moved away. Luckenwalde fell into slow decline.

For Stuttgart-born artist Pablo Wendel, Luckenwalde's proximity to Berlin and its many listed buildings presented an opportunity. In 2017, he purchased the defunct power station through his not-for-profit arts organisation Performance Electrics, and this September will turn it back on. Only this time round, it will be fuelled by wood chips recycled from cable drums instead of coal and will be reborn as a contemporary art centre, offering studio space for artists to rent and an annual exhibition programme.
That Wendel came to own an old power station is no coincidence. For the past five years, he has produced electricity from wind sculptures and guerrilla-style appropriations of electricity supply points using mobile battery packs. Pylonia, the 65m-high pylon he constructed in Stuttgart two years ago, powers his headquarters and two dozen houses in the city and has become an icon of rebellion. E-Werk, with 10,000 sq m of empty space and potential to become a functioning power station, proved irresistible to Wendel. The 39-year-old artist's CV and his patented Kunststrom (art electricity) impressed the former owner of E-Werk, who, keen for it to benefit the local community, sold it, fully renovated, at a discount.

Wendel developed woodchip-burning machines that are compatible with the power station's pre-existing mechanics. 'At first, people were sceptical, but Kunststrom has moved far beyond an idea. We forget to talk about how much energy is needed to make art, how much energy museums use through lighting, cleaning, conservation and transport. They spend much more of their budget on this than they do on young artists. I'm offering art as a power supply.' Wendel also stocks his studio in E-Werk with welding kits, milling machines, lathes and drills, which resident artists can access.
For the September opening, entitled Power Night, Wendel will roam among the labyrinth of pipes, ladders and furnaces that make up the power station's engine room, filming as he goes. His journey will be projected on a screen to an audience in E-Werk's Turbine Hall. In two of the three galleries, artist Nicolas Deshayes will exhibit Thames Water, a series of sculptures made of pipes through which water, heated on site, will flow. Artist Lucy Joyce created flags and photographed locals brandishing them in key spots near E-Werk. These images will go on show in Gallery 3 and the artworks will be displayed at the building's front entrance. London's Block Universe is bringing a roster of performance artists to the Turbine Hall and the Stadtbad (Bauhaus swimming baths) next door.

In the grounds, an 18m geodesic dome by Stuttgart architecture collective Umschichten will host events. It's the first of five pavilions that Wendel and Helen Turner, his co-artistic director and life partner, have planned as part of the year-long E-Pavilion architecture series. Next up, next year, are structures by German designer Samuel Treindl and students from Berlin's Universität der Künste.
'I've always been interested in ephemeral art, self-destroying sculptures,' says Wendel, who studied sculpture at London's Royal College of Art. 'But I struggled to make a living from non-commercial art, so I decided to industrialise myself, to set up an autonomous infrastructure. Now I can use art to power the washing machine.' Turner, who left her position as chief curator at the UK's Cass Sculpture Foundation to run E-Werk, adds: 'Pablo can solve any problem with his hands.'

Initially, about a quarter of the plant will be in use, producing enough energy to power 200 Luckenwalde households. Leftover heat produced through the pyrolysis system will feed back into its eco-system to heat the space and, in future, power an agricultural programme that includes a brewery, a coffee roasting facility, aquaponic fish cultures and vertical farming.
E-Werk's eight studios were snapped up by artists who are being priced out of Berlin. 'There are so many artists there, it's crazy,' says Wendel, who had no idea where he'd go when his team of five outgrew his Stuttgart studio. 'I came to Luckenwalde to view the Stadtbad as a studio space, then heard about E-Werk. I never expected to buy a power station!'

'One day we hope E-Werk will power the whole of Luckenwalde as it used to,' says Turner. 'We see huge potential for cultural regeneration through its listed buildings beyond the Stadtbad and Hutfabrik [the 1920s hat factory designed by the German expressionist Erich Mendelsohn]. We would love to activate these buildings, too.'
As originally featured in the October 2019 issue of Wallpaper* (W*247) – on newsstands now
INFORMATION
kunststrom.com (opens in new tab)
ADDRESS
73 Rudolf-Breitscheid-Strasse
Luckenwalde
VIEW GOOGLE MAPS (opens in new tab)
Emma O'Kelly is a contributing editor at Wallpaper*. She joined the magazine on issue 4 as news editor and since since then has worked in full and part time roles across many editorial departments. She is a freelance journalist based in London and works for a range of titles from Condé Nast Traveller to The Telegraph. She is currently working on a book about Scandinavian sauna culture and is renovating a mid century house in the Italian Lakes.