Box fresh: Suha Traboulsi and Walid Raad's elegy to stolen art at Aïshti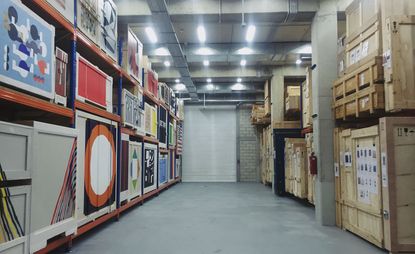 (Image credit: Antonio Camera)
Beirut's Aïshti Foundation, housing the private art collection of Lebanese art collectors and retail magnates Tony and Elham Salamé, was unveiled on 25 October to much fanfare.

Revelers at the opening festivities were offered the opportunity to explore its storage facility – and not because of lax security measures. Rather, it was an invitation to discover a project by artists Suha Traboulsi and Walid Raad, nestled among more conventional racks, pallets and crates.

Titled 'Postscript to the Arabic translation', Trabousi and Raad's installation replicates an impressive roster of 20th century paintings on the sides of wooden crates. An On Kawara date painting is seen next to Ellsworth Kelly's curved-edge Yellow Piece, whereas an illusion-inducing Carmen Herrera sits atop a Barnett Newman zip. In the corner, a sizable star-spangled banner a la Jasper Johns hovers over smaller, but equally recognisable homages to Lucio Fontana and Alfred Jensen.

When we last spoke with Tony Salamé (see W*200), he'd mentioned that these were artworks that he dreamed of owning. The exhibition captions, however reveal a more complex story. As it turns out, the authentic versions of these paintings had indeed belonged to the same collection – put together between 1952 and 1974, and intended to anchor a new national Museum for Modern Art (planned for May 1975). The onset of civil war prevented this museum from ever opening, but the paintings remained in Beirut, stashed in the Ministry of Culture's central depot.

In the subsequent 30 years, corrupt political figures dipped into this collection over and over, and took valuable works as 'gifts' for themselves, their relatives and cronies.

The Palestinian-born Traboulsi, who had started her career as a minimalist painter, served as the ministry's Chief Registrar of Public Collections from 1956 to 1981. Unable to stop the brutal looting of artworks that had been consigned to her care, she memorialised 154 'gifted' works by painting replicas on crates.

While original crates are no longer in existence, 37 of them have now been reproduced at Raad's behest, to serve as a potent tribute to a desecrated cultural landscape.
INFORMATION
Photography: Antonio Camera
ADDRESS
Aïshti Foundation (opens in new tab)
Jal El Dib, Lebanon
VIEW GOOGLE MAPS (opens in new tab)
TF has been editor of Wallpaper* since December 2020. He is responsible for our monthly print magazine, planning, commissioning, editing and writing long-lead content across all our content pillars. He also plays a leading role in multi-channel editorial franchises, such as our annual Design Awards, Guest Editor takeovers and Next Generation series. He aims to create world-class, visually-driven content while championing diversity, international representation and social impact. TF joined Wallpaper* as an intern in January 2013, and served as its commissioning editor from 2017-20, winning a 30 under 30 New Talent Award from the Professional Publishers' Association. Born and raised in Hong Kong, he holds an undergraduate degree in history from Princeton University.