Book: Dennis Hopper: Photographs 1961-1967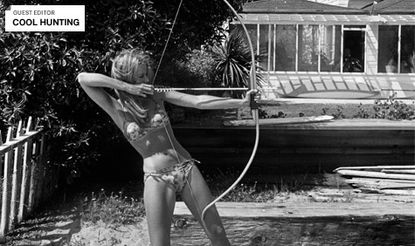 (Image credit: Dennis Hopper)
Inspired by his friend James Dean, Dennis Hopper explains his new monograph this way, "I was doing something that I thought could have some impact someday. In many ways, it's really these photographs that kept me going creatively."
See more images from Dennis Hopper's latest photographic monograph
In 1955, an 18-year-old Hopper met 24-year-old Dean on the set of Rebel Without a Cause and the two became immediately inseparable. Prior to his death, in fact, it was Dean who advised Hopper to start taking photographs. Who knows if Dean had any idea where his suggestion might lead, but on the eve of the book's release, it's clear the art world is better for it.
In recent years, Hopper the photographer has even eclipsed Hopper as a film star and the publication shows that photography has been a pillar of Hopper's creative world for decades. Featuring several previously unpublished photographs, his images are a dramatic visual treatment of the 1960s, reflecting a world in flux—politically, socially and artistically.
From the civil rights march at Selma to the art world's electricity to grittier, urban street scenes, from politicians to writers to artists to complete strangers, Hopper's camera captured an era. His photos also reveal the circles in which he himself moved, with intimate portraits of personalities like Andy Warhol, James Dean, Tina Turner, Paul Newman and Jane Fonda. Insightful essays plus interviews with Hopper, his famous subjects, friends and family add another layer of indulgence to the experience.
Hopper's photographs (opens in new tab) unarguably share the same intensity and intelligence that marked his film career for over five decades. It makes it difficult to completely separate his cinematic career from his photographic career—but really, why should we? As Walter Hopps writes in the book, "His good pictures seem in the best sense like films, as these evocative recordings of his experiences and his travels."
by Anna Carnick