Babak Ganjei: 'If Instagram went down I don't know if I'd exist'
Babak Ganjei's text-based artwork, currently showcased at Browns East in London, combines sharp observational comedy with endearing honesty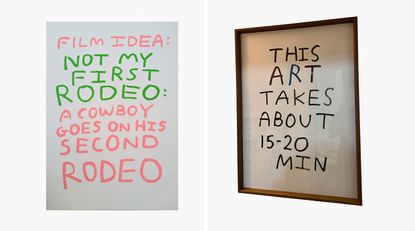 (Image credit: Babak Ganjei)
I meet Babak Ganjei for a quick coffee and to talk about his art, which becomes wine and talk of Instagram, MasterChef, bands, influencers and locksmiths: a mash-up that accurately reflects the eclectic, pop culture-infused nature of both his work and Instagram feed.
Over the years, Ganjei's dry humour and sharply observational artwork has built him a fan base on Instagram, where he sells his work directly to customers. After studying art at Central Saint Martins in London, Ganjei spent a decade playing in bands and creating comics, releasing the comic book Hilarious Consequences in 2010 before returning to art. 'I haven't changed from my degree show, I'm doing the same thing, it's just that the internet didn't exist then,' he says. 'If it did, I would have [used] it then – it's just what I do, I have to tell everybody everything. And I did tell everyone everything then, but only a few people saw it.'
The confessional tone of his pieces strikes a chord, from I'm So Scared of Being Found Out and I'm Not Even Sure What I've Done and I Miss You So Much When You're Gone But When You Are Here I Can Take It Or Leave It to his most popular, I'm In the Bush Outside and I Really Love You, on both paper and in special-edition neon. He's not impressed at the suggestion his pieces are romantic: 'I guess. I was raised on rom-coms; I don't go out with anybody and I think half of that is because in the rom-coms, when people get together it goes shit. It's almost like human sacrifice – I have to stay in this perpetual torment to make stupid work.'
Other popular pieces are his film ideas – Film Idea: Not My First Rodeo: A Cowboy Goes On His Second Rodeo and Film Idea: Billy Elliot 2: Ten Years on Billy Elliot Goes on Tour With Missy Elliot Then Discovers She Is His Real Mum – also born from social media. A retweet from American comedian Rob Delaney sent casting directors to Ganjei's Twitter account; Ganjei composed the ideas to attract their attention. 'The 140 character limit lent itself to pithy film ideas, which I then began to draw on paper. They're just words but, visually, it clicked on Instagram. If I do painting on that medium I don't get any attention, but if I write it in big letters it's instant.'
As his work becomes increasingly successful, he is inclined to take a step back: 'I'm not used to it, because it wasn't meant to work and then it worked, but it's not very hard – I don't get that. Then it becomes challenging and I say I'm going to delete the website. I don't know if it's appealing to the audience to be doing well. I have this massive guilt complex where I'm meant to be constantly struggling and now I'm not.'
His Instagram feed is a mix of his work, his thoughts and these worries; as he uses it to sell his work, he feels the pressure to post regularly, aware he loses followers after a football rant or MasterChef pontifications. 'Why did they unfollow? I don't want it to bother me and it doesn't, but it does – I'm talking about it,' he says. 'And every now and then I can tell the algorithm has gone and it's not being seen by so many people, and I realise I don't understand it and the whole thing hinges on this arbitrary thing that isn't in my control and that's quite scary – if Instagram went down I don't know if I would exist.'
The physical drawing of his work doesn't take Ganjei long, 15 or 20 minutes. 'Once, someone watched me make a picture and I was trying to stretch it out a bit, but it's really hard to do it slowly.' He then shares the work online as soon as he finishes it, before checking for spelling mistakes. 'I'm starting to think I don't have to post it as soon as it's done,' he adds. 'It's almost like Instagram is an online diary; you can take time and decide if it's good or not – I don't even give myself that chance, I just post it and hope for the best.'
Typically, Ganjei underplays his current projects: a pamphlet of his film ideas released with Rough Trade Records, his involvement in Somerset House's upcoming exhibition 'Beano: The Art of Breaking the Rules', and his current exhibition at Browns East. 'I've got these things in the background,' he says. 'People do copy me; it's a matter of time until someone cooler and younger starts doing something like this – anyone can write something on a piece of paper.'
He is in talks to do a TV show, he adds, casually. 'Although it won't get picked up,' he says in the same breath. 'While it's a potential it's quite exciting, because it means I'm potentially doing a TV show in which I'm playing Babak, a loveable character. I don't know where the end game is when you get this meta.'
INFORMATION
Babak Ganjei's exhibtion will be on show at Browns East, London, until 2 October 2021, brownsfashion.com (opens in new tab)
Hannah Silver joined Wallpaper* in 2019 to work on watches and jewellery. Now, as well as her role as watches and jewellery editor, she writes widely across all areas including on art, architecture, fashion and design. As well as offbeat design trends and in-depth profiles, Hannah is interested in the quirks of what makes for a digital success story.