Artist Support Pledge one year on: is it here to stay?
There has been one year of #artistsupportpledge, the Instagram initiative that brought income to artists in times of turbulence, and art to collectors at accessible prices. We caught up with founder, artist Matthew Burrows to find out how ASP turned from short term solution to global movement.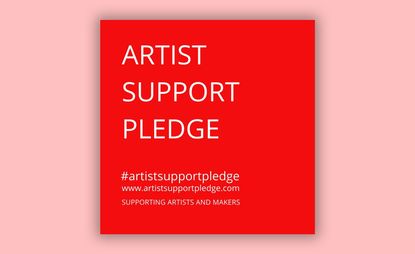 (Image credit: press)
One year ago, art galleries had shuttered their doors, revenue streams for artists were evaporating, and the art world began a sustained physical hiatus. Amid this tsunami of uncertainty, a hashtag began taking Instagram by storm.

The Artist Support Pledge (#artistsupportpledge) presented an opportunity for artists to sell their work directly via the social media platform. Though simple, this artist-to-patron, artist-to-artist formula, proved revolutionary. To recap, each time an artist makes £1,000 in sales, they commit 20 per cent of their earnings to purchasing another artist's work. The rules are not enforced; this is a principle built on trust and generosity, and one year on, the initiative has cast a positive light on the human condition. 'ASP has proven that the vast majority are only too willing to give generosity a go,' says Matthew Burrows, Sussex-based artist and founder of Artist Support Pledge. 'It has fundamentally changed my view on what is possible.'
Artist Support Pledge, now a non-profit company, was conceived as an open, democratic marketplace based on a sustainable 'micro-culture and economy', as opposed to one of aggressive growth. Initially, it was to tide artists over until a three month isolation period lapsed, but as we now know things escalated. 'Artist Support Pledge was set up as an emergency response to a desperate situation and has evolved into a new cultural economy formed out of a simple idea, who could have imagined that?' Burrows explains.

'Sharing economies are at the forefront of economic thinking so it's prescient that ASP's impact has caught on. Fundamentally ASP is a movement which operates through cultural values, for the good of the many and not merely the few.' This is not exactly a new concept; human beings thrived in societies based on similar principles for hundreds of thousands of years pre-industrialisation. As Burrows adds, 'using digital media to create community-focused economies is the only new part.'

In another major recent development, the initiative has welcomed a-n (The Artists Information Company), the UK's largest artists' membership organisation, on board as a supporting partner. 'It's a natural match, we are both committed to nurturing and supporting the lives of artists,' Burrows explains. 'a-n have been doing it for years and are well set up to support ASP's ambitions.'
RELATED STORY
It's also been a year Burrows is unlikely to forget personally; he was made an MBE in The Queen's birthday honours list, was named Apollo's Personality of the Year, and was listed among the ArtReview Power 100. 'I get messages, letters and gifts almost every day from artists, from all over the world, expressing their gratitude. It can be overwhelming' he says. 'Some are just happy they have sold a few pieces, others are making a very good living paying rent and feeding their families. Then there are the buyers, who for the first time, feel like they have the opportunity to purchase art, without having to be super-rich.'

One year on, galleries and art spaces around the world are gradually showing signs of emerging from hibernation, but ASP is proving to be far from redundant. 'There are just too many people living off ASP right now for it to stop.' says Burrows, who will continue supporting artists in an ever-shifting landscape. He aims to 'build bridges' with commercial and public galleries, as well as educational institutions, but for that, he'll require staff, and ergo funding.

So where will Artist's Support Pledge be one year from now? Burrows' goals are characteristically ambitious, but if the initiative's track record is anything to go by, not unattainable. 'I hope that ASP will have a team maintaining and developing a vibrant cultural initiative and economy, borne out of crisis into a new order of cooperation and interdependence.'
INFORMATION
https://artistsupportpledge.com
Harriet Lloyd-Smith is the Arts Editor of Wallpaper*, responsible for the art pages across digital and print, including profiles, exhibition reviews, and contemporary art collaborations. She started at Wallpaper* in 2017 and has written for leading contemporary art publications, auction houses and arts charities, and lectured on review writing and art journalism. When she's not writing about art, she's making her own.