Artist's Palate: Bharti Kher's banana and saffron creamy frozen yogurt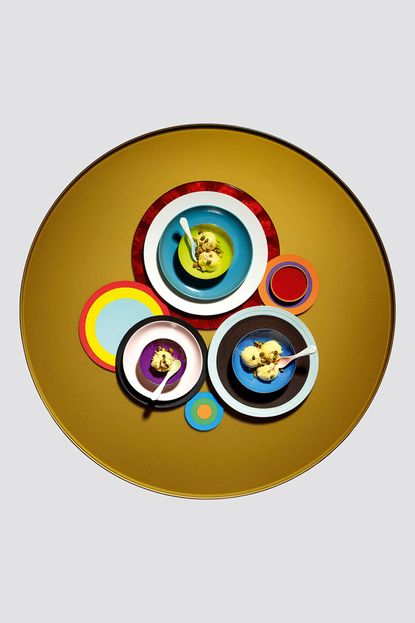 (Image credit: Zachary Zavislak)
'Planet' table, $3,950, by Dune. Clockwise from top, red coral placemat, $58, by Kim Seybert; white charger, $40, both from Bloomingdales. Blue dinner plate, $50, from ABC Home. 'Dot' bowl (medium), $79, by Paul Smith for Stelton, from Bloomingdales, as before. 'Miix' spoon, $24 for set of five, by Lee Chi Wing, for Loveramics; 'Totem' coaster, $30 for set of four, by Eric Janssen for MoMA, both from MoMA Store. Light blue dinner plate, $22, by Sophie Conran for Portmeirion, from The Conran Shop. Brown leather placemat, $34, from The Conran Shop, as before. 'Dot' bowl (large), $99, as before. Black leather placemat, $34, from The Conran Shop, as before. Pink salad plate, $40, from ABC Home, as before. 'Dot' bowl (small), $59, as before.
London-born Bharti Kher has become one of India's leading contemporary artists by tumbling together the modern and traditional of subcontinent culture in a range of sculptural forms (often hybridised animal-human and covered in bindis) and bright bindi paintings. Adoring critics list her influences as ranging from Swiss surrealist Méret Oppenheim to Bosch, Goya and Blake. Mix in gender issues, as represented by the Indian male moustache, along with wider ethnographic explorations – and more bindis – and you have a feisty international art-phenomenon. And mix frozen yogurt with bananas, saffron and rather a lot of sugar and turn into an ice cream maker, as Kher suggests, and you have a blend of modern and traditional India perfect for cleansing the palate after spicy food.
Method
Makes one litre of ice-cream. All ingredients must be cold

Make 1.5 litres of yogurt with full cream milk overnight. Or if you have to, use readymade yoghurt.

Hang the yogurt in a muslin cloth over the sink so that all the water drains out for approximately one hour (let the water drain into a glass if you want, add a pinch of salt and roasted cumin and drink it).

Mix in three ripe chopped bananas and a good pinch of saffron (four to five strands) so that you get a soft yellow colour. The saffron gets stronger over time, so don't overdo it. Kashmiri saffron is the best.

Add ground sugar to taste (for ice cream you always need more than you taste as sweet). I use three level tablespoons.

Liquidise all in a food processor to get a smooth consistency. Add fresh single cream or milk if it feels too thick.

Taste again for sugar and check the colour of the saffron is uniform.

Turn into an ice cream maker or put in the freezer and whisk every hour so that ice doesn't form. It should never ice over.

Eat it when soft and decorate either with thin banana slices, pistachios or a strand of saffron.

As originally featured in the June 2011 issue of Wallpaper* (W*147)