Turin's Artissima art fair looks back on a quarter century of international art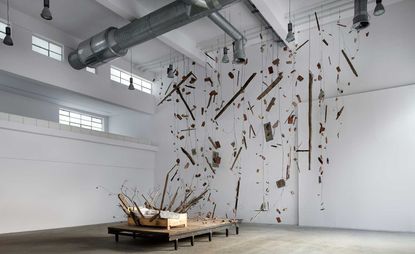 (Image credit: Courtesy Fondazione Merz)
The first week of November heralds the arrival of world-class art in Turin, alongside a merry band of collectors and connoisseurs. Its flagship art fair, Artissima celebrates its 25th anniversary this year, uniting 189 participating galleries from 35 countries work under the theme 'Time is on our side', a celebration of both Turin's rich history and the future of art in the city and beyond. 'The title evokes the mission of contemporary galleries who are not just interested in market sales but actually in developing their artists' careers,' says Artissima's Director, Ilaria Bonacossa.

We've rounded up a few highlights to look out for both in the Oval Pavilion and around town between 2 - 4 November.
94 established, international galleries
Be Afraid of the Enormity of the Possible, by Alfredo Jaar, 2015. Courtesy Galleria Lia Rumma
Artissima's main section will play host to veteran galleries, who have a prominent place in the international contemporary art scene. This year Milan's Primo Marella Gallery will offer up new work from Marie-Claire Messouma Manlanbien, namely her meticulously embroidered Histoires de Tripes 026 alongside work from Amina Zoubir and Ifeoma U. Berlin's Galerie Thomas Schulte will focus on five of their more conceptual artists including Angela de la Cruz whose work straddles the boundary between painting and sculpture, and David Hartt's augmented version of the ubiquitous 'walk-up' public telephone system. Meanwhile, Chilean artist Alfredo Jaar will be the main event at Galleria Lia Rumma's booth with his Be Afraid of the Enormity of the Possible, a work inspired by the writings of art historian Germano Celant that uses neon as a vehicle to provoke philosophical discourse. www.artissima.art (opens in new tab)
14 first-time Artissima exhibitors
Build your House on the Rock (from the series 'The Hero Mother – How to Build a House), by Péter Puklus, 2016. Courtesy Glassyard Gallery
This year will also see a varied feast of works from emerging galleries (defined, in this case as those founded less than five years ago) and exhibiting at Artissima for the first time. ADA, Rome will host Andrea de Stefani's sculpture Floating Fortunes, in which lucky bamboo shoots surface from a mirrored 'puddle'. London-based contemporary African art gallery 50 Golborne offers up Malian photographer, Fatoumata Diabaté's imposing monochrome portrait, Tèmè and Malala Andrialavidrazana's Figures 1856 which superimposes graphics to create symbols of colonial domination. And Budapest-based Glassyard Gallery will present Build your house on the Rock by Hungarian fine art and editorial photographer, Péter Puklus whose work questions and deconstructs pre-conceived gender roles and conventional dynamics of 'family and home'. www.artissima.art (opens in new tab)
Artissima's new off-site section devoted to all things 'Sound'
The Greenhouse, by Christina Kubisch, 2017. Exhibition view at Silenzi d'Alberi. Photography: Silvia Longhi. Courtesy the artist, Gaerie Mazzoli, Berlin and Silenzi D'alberi, Pieve di Soligo
This year also sees the debut of an off-site section, dedicated to sonic exploration. Sixteen new works by 15 exhibitors will be hosted at the Officine Grandi Riparazioni di Torino, a former train repair factory turned cultural events space, which opened its doors last year. The mission of curators Yann Chateigné Tytelman, and Nicola Ricciardi (OGR's Artistic Director) is to present diverse sound-based installations by artists at varying stages of their careers, ranging from historical figures to established practitioners to young, emerging creatives. 'It's the first time Artissima will have a curated section outside the fair's pavilion, so this is a great new development,' says Bonacossa. 'Some of the most touching artworks I have experienced have been sound pieces.' Works including Christina Kubisch's The Greenhouse and Tris Vonna-Michell's Registers will immerse and aurally navigate visitors through the monumental exhibition space. www.artissima.art (opens in new tab)

Artissima's longest running section, 'Present Future'
Teddy Bear Celeste, by Ad Minoliti, 2018. Photography: Matthias Kolb. Courtesy Peres Projects
Artissima's oldest subdivision, Present Future is a celebration of young, emerging artists. Now in its 18th edition, it will see significant solo shows from 18 artists, curated by Cloé Perrone. The section continues to be a primary hunting ground for new talent, offering exposure to young artists from an international landscape. With no specific thematic or theoretical instruction, the space is left largely to the artists' interpretation. The concept subverts the traditional process of recruiting exhibitors; instead of galleries applying for a much sought-after spot at the fair, artists are hand picked by a young team of curators. This year, Ad Minoliti will present his new acrylic fresco Teddy Bear Celeste at Peres Projects; Brazilian gallery, and A Gentil Carioca will show work by experimental sound installation artist, Vivian Caccuri, and Iranian gallery, Dastan's Basement will exhibit the text-based paintings of Nariman Farrokhi.
Petrit Halilaj's Shkrepëtima at Fondazione Merz
Exhibition view: Petrit Halilaj. Shkrepëtima, 29 October 2018 – 3 February 2019. Courtesy Fondazione Merz
Winner of the art category in last year's Mario Merz Prize, Petrit Halilaj will stage a large-scale intervention at Fondazione Merz from 29 October – 3 February 2019. Shkrepëtima – an Albanian word meaning 'flash' or 'lightning bolt' – marks the final installment of an ambitious three-part project curated by Leonardo Bigazzi. The first, in July this year, was a multidisciplinary public performance set in the ruins of the Cultural Centre of Runik (Kosovo). After an extensive research process, Halilaj and the Runik community attempted to resuscitate the historic building, transforming it back from its recent use (an unofficial rubbish dump) to its former glory as Runik's cultural hub. Following the second show at the Zentrum Paul Klee in Bern, this final exhibition in Turin presents a cultural portrait of the early Neolithic roots of Runik and its Cultural Centre, which dates back to the Yugoslav era. Halilaj will replicate the building using scenography from his previous performance, culminating in a broad assessment of how space and place can construct personal and collective identities. www.fondazionemerz.org (opens in new tab)
Rachel Rose's Wil-O-Wisp at Fondazione Sandretto Re Rebaudengo
Still from Wil-o-Wisp (Moiré Installation), by Rachel Rose, 2018. © the artist, 2018
New York-based artist Rachel Rose's Future Fields Commission, Wil-O-Wisp (2018) will be installed on European turf for the first time at the Fondazione Sandretto Re Rebaudengo (2 November 2018 – 3 February 2019) following its debut at Philadelphia Museum of Art earlier this year. The artist has a track record of insightful investigations into fluctuating societal norms and historical events. The product of two years' work by a 24-strong crew and 13 actors, this stirring live action video work explores the persecution of women accused of deviant witchcraft in 16th-century England through the life of its protagonist, Elspeth Blake. 'I was interested in a time and place where there was more fluidity and transference between everyday reality and this other worldly state,' says Rose. Applying her distinctive post-production techniques (a process which alone took an entire year), Rose creates a space where perceptions are warped and viewers are gripped by a narrative riddled with rousing historical references. Read more about Rachel Rose's exhibition in the November issue of Wallpaper* (W*236). www.fsrr.org (opens in new tab)
INFORMATION
Artissima takes place in Turin between 2-4 November. For more information visit the Artissima website (opens in new tab)
Harriet Lloyd-Smith is the Arts Editor of Wallpaper*, responsible for the art pages across digital and print, including profiles, exhibition reviews, and contemporary art collaborations. She started at Wallpaper* in 2017 and has written for leading contemporary art publications, auction houses and arts charities, and lectured on review writing and art journalism. When she's not writing about art, she's making her own.