AA Murakami at Superblue: bouncing bubbles, mechanical trees and interactive fun
At Superblue's new temporary Piccadilly space, artist duo AA Murakami confront environmental themes with staggering multisensory installation, Silent Fall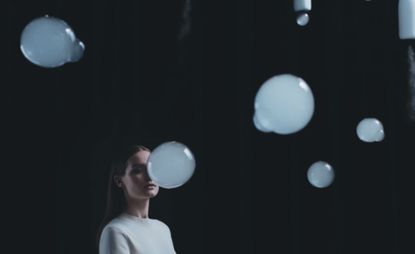 (Image credit: Juriaan Booij)
London's art scene is marking a return to normal-ish service with crowd-pulling but concept-heavy multisensory installations. As the Hyundai Commission by Anicka Yi fills Tate Modern's Turbine Hall with strange smells and AI-enabled entities, AA Murakami are doing something similar at Superblue's temporary Piccadilly space.
Silent Fall is an entrancing forest of mechanical trees that release bubbles packed with mist and various foresty scents, inviting interactive fun. Visitors can wander through the installation, popping bubbles as they go, and even cradling them and bouncing them around while wearing special gloves.
The more design-literate among the audience will recognise the piece as an updated and expanded version of New Spring, the Instagram smash first presented by Studio Swine in collaboration with COS during Milan Design Week in 2017. It was subsequently exhibited in Miami and Shanghai. (Studio Swine founders Alexander Groves and Azusa Murakami have now bisected operations, if only nominally, with Studio Swine handling product and furniture design and AA Murakami taking on the conceptual installations.)
As with Yi's work, Silent Fall brings together what Groves calls 'ephemeral technology' and scent-making – they worked with perfumer Paul Schütze on this installation – to investigate our dysfunctional and destructive relationship with the natural world.
'We see it as an archival forest in the sense that in the future there might not be real forests but replica forests that store information,' he says. Walls of mirrors stretch this forest of bone-white techno trees to infinity, while the forest floor is alive with bubbles. 'We're interested in the primordial origins of life,' says Groves. 'Scientists have done primordial soup simulations and discovered that life originated with self-organising fatty bubbles. The first cells were bubbles.'
Groves says that as much as they enjoy developing and employing ephemeral technology, they want to maintain a sense of material engagement. 'A lot of tech art lacks materiality. It's all audiovisual and the interface is the same as when you are dealing with emails. We want the interface to be ephemeral, bubbles or smoke-rings, shifting states of matter. And I see the future of technology as much more integrated into our built environment or natural environment.'
Silent Fall is the first UK presentation for Superblue, which is staking a claim as patron and commercial partner of experiential artists. It was co-founded by Mollie Dent-Brocklehurst, who set up the London outpost of Pace Gallery, and Marc Glimcher, Pace's president and CEO, and began life as a PaceX, a Pace Gallery side project (many of Superblue's artists are also represented by Pace, which will continue to handle sales of physical works, and Superblue has temporarily taken over the old premises of Pace Gallery, following the latter's move to a Jamie Fobert-designed space on Hanover Square).
Now a separate business, and backed by Laurene Powell Jobs' Emerson Collective and Therme Group's Therme Art initiative, it already claims a compelling cluster of artists including James Turrell, Random International, Nick Cave, Es Devlin, Drift, Jakob Kudsk Steensen and teamLab as well as AA Murakami.
'We became fascinated with these artists who were making experiences but not being served by the gallery market,' says Dent-Brocklehurst.
Superblue opened a permanent 50,000 sq ft space or 'experiential art centre' in Miami in May 2021, featuring installations by Turrell and teamLab, and opened an exhibition of multisensory works by Drift at Manhattan's The Shed in late September. Dent-Brocklehurst says Superblue is looking to open other sites in the US and possibly London.
INFORMATION
AA Murakami, Silent Fall, 2021, 12 Oct 2021 – summer 2022, Superblue London, superblue.com (opens in new tab)