Superblue is the new hub for experimental art
Artists Es Devlin, James Turrell, teamLab and DRIFT kick off the inaugural programme at experimental art company Superblue, at its first Miami iteration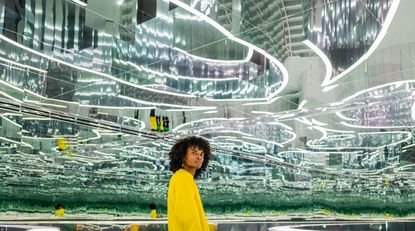 (Image credit: Andrea Mora)
Superblue, Miami's new experimental art venue, has opened its doors. Located in a vast unused industrial building in the city's Allapattah neighborhood, the space transforms 50,000 square foot into an immersive installation space, kicking off an inaugural programme with large-scale works from artists including Es Devlin, James Turrell and teamLab.

For Amsterdam-based artist studio DRIFT, the space affords the opportunity to reflect on nature's growth processes through technology. Their new kinetic sculpture, Meadow, turns a traditional landscape on its head, with a careful choreography mimicking nature's natural rhythms. Mechanical flowers, attuned to the entry of visitors, open and close when their sensors pick up on the tread of a visitor. This intuitively sets off a pattern of alternating speeds and colours, drawing all those who encounter Meadow into the performance.
The amalgamation of technological principles and natural rhythms which DRIFT explore in the work mirrors the symbiosis between the two Dutch artists who make up the studio, Lonneke Gordijn and Ralph Nauta. 'The transformative power of nature awakens an intuition that we all still have within us,' they say. 'In the relationship between nature and technology, we are highlighting a subtle and poetic balance between the two.

The dual aspect of Meadow stems from DRIFT's own dual characters; Ralph Nauta, forever ensconced by technological innovation and Science Fiction-like themes and Lonneke Gordijn, an avid observer of nature and researcher of evolutionary transformations. Neither compete, but instead work as one. The work captures how two seemingly converse entities can come together and develop their own, unique relationship. In Meadow, this is reflected in the light, colour and opening and closing rhythms which, together, form new patterns.

The work is a highlight of a programme which encompasses digital experiences, the creation of new environments and large-scale works by a host of experimental artists. For Es Devlin, performative sculptures are brought to life in Forest of Us, which draws parallels between the structures within us which allow us to breathe, and those external to us. The bronchial tubes which exchange oxygen for carbon dioxide and the trees which exchange carbon dioxide for oxygen are explored in the work which begins as a film. Viewers are invited to step into this visual world through random permutations which lead to a mirror maze. The surreal hall of mirrors confuses our perceptions - distracted by our own image on an endless loop, we lose sight of our connection with the biosphere.
James Turrell, too, plays with our perceptions in Akhu. Continuing his exploration of optical illusions through light, volume and scale. Here, he uses the prism of light for a large-scale installation: viewers, welcomed into a room of monochrome lighting, are perturbed when the light then disperses. The abrupt change in perception leaves them disorientated, and with nothing to focus on.

For teamLab, the size of the Miami venue allows for a greater depth of experimentation. Between Life and Non-Life encompasses projects both new and recent from the interdisciplinary collective. Installations include the debut piece Massless Clouds Between Sculpture and Life, which places the visitor amongst giant floating clouds. Upon pushing through, the clouds break and, like a living thing, repair themselves until, like the body, a limit is reached and they ultimately collapse, permanently.

The installation joins other pieces including Flowers and People, Cannot be Controlled but Live Together – Transcending Boundaries, A Whole Year per Hour and Proliferating Immense Life. A Whole Year per Year is a computer-generated continual cycle of flowers growing, blooming and dying, with flowers scattered on the floor withering when stepped on. Universe of Water Particles, Transcending Boundaries also immerses the visitor in the atmosphere, inviting them to influence the flow of water particles which part as they pass.
INFORMATION
Hannah Silver joined Wallpaper* in 2019 to work on watches and jewellery. Now, as well as her role as watches and jewellery editor, she writes widely across all areas including on art, architecture, fashion and design. As well as offbeat design trends and in-depth profiles, Hannah is interested in the quirks of what makes for a digital success story.