Drift's poetic drone installation takes flight for Netherlands' Liberation Day
The Dutch artist duo staged a special iteration of Franchise Freedom above Rotterdam this week, flying 300 illuminated drones in formation to send a message of hope and encouragement in midst of the Covid-19 pandemic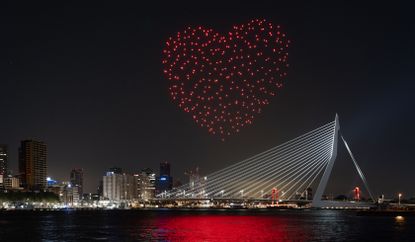 (Image credit: © Ossip van Duivenbode)
Liberation Day, on 5 May, is usually a joyous occasion in the Netherlands. To mark the anniversary of the end of Nazi German occupation, parades and concerts are held throughout the country, the streets teem with revellers and the skies set ablaze with fireworks. Sadly not this year – with the fight against Covid-19 under way and the nation in lockdown, none of the usual celebrations went ahead. In their place was a performance of 300 illuminated drones above the city of Rotterdam, flying in formation as though a flock of starlings.

The performance, titled Franchise Freedom, was the brainchild of Amsterdam-based artists Lonneke Gordijn and Ralph Nauta, collectively known as Drift. With kinetic sculptures that evoke the blooming and fading of flowers, the behaviours of flocking birds, and mankind's yearning to fly, Drift have long explored the intersection of nature and technology. Franchise Freedom, which uses a specially developed algorithm to mimic autonomous swarm behaviour, premiered at Art Basel Miami Beach in 2017. It has since flown in Amsterdam to coincide with the artists' solo exhibition at the Stedelijk, at Burning Man, and at Kennedy Space Center for the 50th anniversary of Apollo 11. The Liberation Day flight, however, was the first to take place under less than jubilant circumstances.
Gordijn says that the sense of isolation that many of us have experienced of late compelled Drift to put on this special iteration, which came together at short notice. Digital experiences, advanced as they have become, can't quite replicate the physicality of live performance, she believes. Through Franchise Freedom, Drift aims 'to bring people together and help them feel connected.'

And make people feel connected it did – after soaring back and forth along the River Maas, the drones gathered above the swan-like silhouette of Erasmus Bridge and formed a giant heart shape. It pulsed bright red, spinning on its axis so as to be seen from all angles, and finally changed colour to resemble the horizontal tricolour of the Dutch flag. Though subtler and shorter lived, this was a performance to rival the most elaborate fireworks display, with greater emotional impact too.
From Erasmus MC hospital, a stone's throw from Erasmus Bridge and the coordination point for all intensive care units in the Netherlands, the performance had an added dimension: a new, introspective soundtrack by composer Joep Beving, who performed it live on the piano. It was a special gesture of hope and encouragement for everyone working day and night to ensure the freedom and health of others, explain the artists.

Gordijn points out that Franchise Freedom is predicated on a thought experiment: while flight connotes freedom, individual birds in a flock (and likewise, drones in a formation, and humans in society) are bound to rules and conventions that ensure collective survival. This rings particularly true in a pandemic, when personal compromises – limitations in movement for instance – are essential to communal wellbeing. 'In this time when we're all having to stay home, our freedom is dependent on what the bigger group is doing. We are not by ourselves, and we can't make selfish decisions. We are one nation, and one world,' she says.
'And when we come out of this pandemic, we have to move together to recreate society to its full potential, instead of working against each other', concurs Nauta.

Beyond their message of unity, the artists also hope that this performance of Franchise Freedom can reinforce our faith in the arts: 'We want to show how important art and creativity is in these times,' concludes Gordijn. 'That's what keeps us amazed and inspired, and shows us a way forward.'
A film documenting Drift's drone performance, Franchise Freedom displayed in the sky above Rotterdam for Liberation Day. Courtesy: Studio Drift
INFORMATION
Franchise Freedom is a project by Drift. studiodrift.com
The Liberation Day performance was made possible by art organisation Mothership. enterthemothership.com
Receive our daily digest of inspiration, escapism and design stories from around the world direct to your inbox
TF Chan is a former editor of Wallpaper* (2020-23), where he was responsible for the monthly print magazine, planning, commissioning, editing and writing long-lead content across all pillars. He also played a leading role in multi-channel editorial franchises, such as Wallpaper's annual Design Awards, Guest Editor takeovers and Next Generation series. He aims to create world-class, visually-driven content while championing diversity, international representation and social impact. TF joined Wallpaper* as an intern in January 2013, and served as its commissioning editor from 2017-20, winning a 30 under 30 New Talent Award from the Professional Publishers' Association. Born and raised in Hong Kong, he holds an undergraduate degree in history from Princeton University.