Viviane Sassen's Huis Marseille show is drenched in history, melancholy and intrigue
Through photography and collage, Dutch artist Viviane Sassen examines the tempestuous history of the Palace of Versailles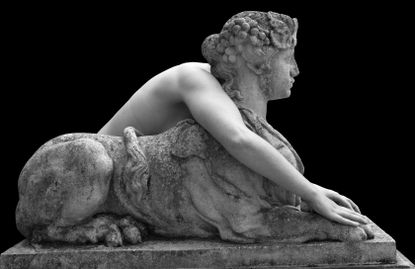 (Image credit: Viviane Sassen)
The Château of Versailles immediately conjures visions of royal opulence – an indulgent 17th century monument to gold-leaf, mirrors, exquisitely detailed fabrics, and ornamental decoration. Lesser known, perhaps, are the black pearls that blemish its gilded history: the prostitutes that frequented the palace grounds; Louise Marie-Thérèse, the mixed-race and reputedly illegitimate daughter of the Queen of France; or Élisabeth Louise Vigée Le Brun's painting of Marie Antoinette in a muslin dress, devastatingly provocative at the time. It was these clandestine stories that inspired Dutch photographer Viviane Sassen when she was commissioned by the Palace of Versailles to create a new body of work last year, 'Venus & Mercury', as part of an ongoing series of artist collaborations with the estate.

Now, the series is taking up residence at Huis Marseille in Amsterdam where it will occupy all 14 galleries as well the museum's gardens. Sassen has imagined a number of new site-specific installations for Huis Marseille, including an homage to the residential history of the canal-side house. The multifaceted exhibition comprises photographic works altered with paint and collage techniques, posters, and monumental free-standing pieces. Anchoring 'Venus & Mercury' is a 20 minute video installation of the actress Tilda Swinton relaying fragments of the palace's history, further complemented with poetic texts by Dutch writer Marjolijn van Heemstra.
The history of Huis Marseille itself, an imposing patrician house built in 1665, coincides with the tumultuous royal court at Versailles. Sassen has cannily capitalised on this overlap, teasing out parallels between the two historic estates. In the Amsterdam museum's Red Period Room, Sassen's abstract sequence of metal prosthetic noses – syphilis would cause the nose bridge to collapse – echoes an 18th-century painting by Johannes Voorhout of a mythological representation of the gods Venus and Mercury. (Mercury, or quicksilver, was once used to treat the disease.) The artist's fascination with sexual decadence continues in her images of classical statues, disfigured with electric and deliberate splashes of paint, other times seemingly discombobulated by Sassen's choice of composition.
RELATED STORY
Far be it for the ever-curious Sassen to take her viewers on a staid visual tour of the centuries-old institution. The photographer, who boasts an equally extensive and celebrated fashion portfolio, brings her distinctly playful gaze to the palace with a series of portraits of a trio of French teenagers. Gilded boiserie and the girls' braids intertwine in Untitled (Braids) (2019), while Charline / Fumé (2019) recalls the formal and stately portraiture that hangs in the palatial estate. Similarly, the Amsterdam showing of 'Venus & Mercury' dedicates a gallery to Julia Valckenier (1680–1717), who lived at Keizersgracht 401 but who ended up in a house of correction at a young age owing to her allegedly 'debauched conduct'.

In 'Venus & Mercury', Sassen confronts the most discomforting and illicit facets of a revered institution, upending traditional historical and sociopolitical codes and challenging us to do the same. With the world seemingly undergoing a revolt of its own, the impetus to view history through a new lens has become more crucial than ever.
INFORMATION
'Venus & Mercury', from 1 June, Huis Marseille. huismarseille.nl
ADDRESS
Huis Marseille
Keizersgracht 401
1016 EK Amsterdam
VIEW GOOGLE MAPS (opens in new tab)