ZHA attempts to save its Tokyo Olympic Stadium from the scrapheap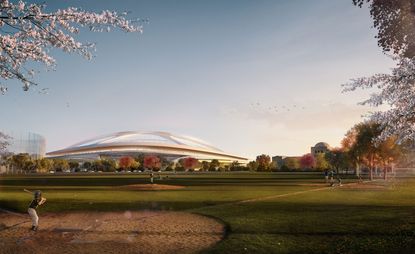 (Image credit: Methanoi)
After a challenging year for Zaha Hadid Architects that has seen the firm's design for the £1.3 billion Tokyo Olympic Stadium scaled back over concerns about spiralling costs (before being scrapped altogether by the Japanese government), the firm have hit back with a 23 minute-long film arguing the case for the controversial design to go ahead.

Spelling out the practicalities of its vision, the firm's movie promises that the design, which has been in development for two years already and cost the Japanese government ¥1.47 billion in fees, is ready to start construction on site this year and will be completed for the 2019 Rugby World Cup, as well as the test events before the summer Olympics in 2020. 'To start the design from scratch is an unnecessary risk that we think the government should reconsider if its aim is to achieve a lower price than ¥252 billion,' the firm says.

The architects suggest that introducing more competition between the contractors could help to reduce costs further, as well as allow for the implementation of a time-saving and cost-cutting parallel construction approach. '¥252 billion is the current price in Tokyo for a basic 80,000 [seater] stadium on that site,' the video states. 'It should also be understood that the immovable deadlines [for events] such as the Olympics, combined with a limited competition in the market place create inflated prices. The determining factor in the price is the market and the demand on materials and labour. The design is not the determining factor in these circumstances. The design should be seen as the only way to achieve value for money in the market.'

As well as the practicalities, the film confronts the criticism it has received for being at odds with its context by offering enticing new renders and fly-throughs while detailing its references to Japanese culture – a silhouette inspired by traditional Japanese landscape bridges, flower petal geometry, and Japanese timber louvres and pedestrian walkways are just a few that are highlighted. Design decisions and details are explained in depth, from lighting to roof dimensions and shape, and how they will impact upon the surrounding environment.

The firm hopes that the video, accompanied by an explanatory booklet, will 'help the public understanding of the project and debate on the next steps for the New National Stadium'. Whether this last ditch effort can reverse the government's decision remains to be seen.
INFORMATION
Imagery courtesy Methanoi