Wuehrer House is a blank canvas for its art collector owners in the Hamptons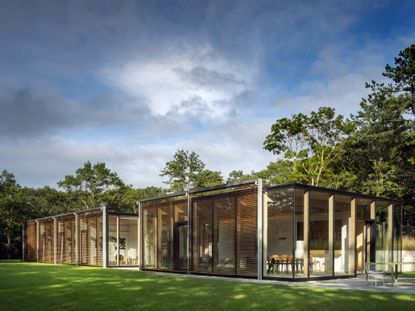 (Image credit: Nic Lehoux)
Wuehrer House is nestled in a quiet and secluded site within Stony Hill Forest in New York's Hamptons, surrounded by white oaks and the occasional pitch pine. It is the work of Paris-born and New York-based architect Jerome Engelking. He envisioned the space as a permanent summer residence for his Austrian parents-in-law, who spent years renting holiday homes on the East Coast.

'I suggested we looked for an undeveloped piece of land, so we could design and build something bare and simple, open yet intimate, and closer to their European construction standards', Engelking explains.

The house is built around a unique and repetitive model, though a simple and discreet geometrical structure. A set of imposing floor-to-ceiling glass walls are lined along three of the building's facades, setting no boundaries with the surrounding nature and conceiving natural light as a defining element. 'I have always had a fascination for glass and its transparency,' Engelking says, 'when you are inside a space you won't be looking at walls, but directly at the surrounding nature.'
The simplicity of Engelking's architecture is matched with a generally muted palette, minimal interiors and walls designed as simple blank slates, ready to accommodate future artwork (the tenants are also passionate collectors).

The home is fitted with a careful selection of furniture which blends contemporary with vintage; works of prominent European designers stand aside renowned 20th-century pieces, ranging from a Charlotte Perriand bench, to Isamu Noguchi floor lamps and chairs by Charles and Ray Eames.

'The interiors were kept purposely simple and minimal,' Engelking says. 'I tried to avoid loud formal gestures, and conceived a structure that is simple and generously open to the surrounding landscape'.
Information
For more information visit the Jerome Engelking website (opens in new tab)