Watch Jean Prouvé's Maison Metropole being rebuilt live, from 21 March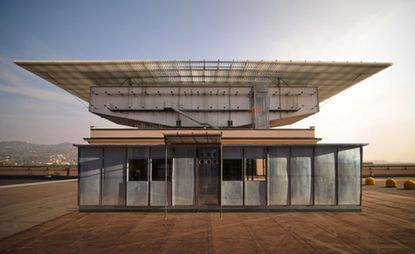 (Image credit: © Galerie Patrick Seguin)
Maison Metropole, Jean Prouvé's masterpiece of pop-up, nomadic housing was originally built for a competition held by France's Ministry of Education in 1949. The brief? Create a mass-producible rural school with classroom and teacher accommodation.

Having already patented their 'portico principle' a decade earlier, the Ateliers Jean Prouvé won the contest with flying colors. The school has already enjoyed quite a bit of post-modern cheerleading but the teacher's house, originally constructed in Vantoux in 1948 and then fading into obscurity, will be mounted for the very first time on the roof of Turin's Lingotto rail track this week.

Starting at 3pm (GMT+1) on 21 March, Wallpaper.com will live stream every minute of the reconstruction, as four people build the 8x12 meter house over a three-day period, proving just how practical Prouvé's intelligent architecture can be.

Here to explain the background of this live action build and why the house remains a modern object of acclaim today is major Prouvé collector Patrick Seguin. Since the 1980s, he and his wife Laurence have amassed over 100 pieces of Prouvé furniture, most of which they live with. Forty pieces from this private collection, including a rare armchair designed for the University dormitory of Nancy in 1932, and a light armchair created for the University of Antony in 1954, will go on view at Turin's esteemed Pinacoteca Giovanni e Marella Agnelli from 6 April.

It's no coincidence that you are showing Prouvé's furniture designs together with his architecture. Tell us why.
Believing that 'in their construction, there is no difference between a piece of furniture and a house', Prouvé developed a 'constructional philosophy' based on functionality and rational fabrication. Answers found in one field are transposed to the other. Free of all artifice, the inner beauty of his works is a consequence of the perfect match of form and function.

Is the Maison Metropole a good example of Prouvé's design oeuvre?
It perfectly illustrates his research on demountable architecture and nomadic housing. The goal was to produce innovative and affordable architecture. He was a pioneer in the mass production of buildings.

Was Prouvé's fascination with nomadic homes rooted in a social/political agenda or purely architectural?
In his view, mass production was more than just a quick way of coping with an emergency: it also embodied a determination to guarantee quality, shape and a new aesthetic. The Metropol House was an ideal answer to economical, ecological and social housing issues but it did not encounter the success it deserved.

How many of these houses were actually produced back in the 1950s?
Fifteen examples of the Métropole House were built, mainly as part of the 'Sans Souci' housing estate at Meudon-la-Forêt.

Tell us about the construction process. Could an average home-owner construct it today?
Prouvé's architecture is meant to be easily built. Indeed, all of the elements are prefabricated and can be assembled on site with only basic tools ; a ladder, a screwdriver, a hammer. From there, anyone could build such a house.
The Metropole house was designed as a mass-producible rural school with classroom and teacher accommodation. Two of the structures were built: one in Vantoux in Moselle and the other in Bouqueval, near Paris. The building being reconstructed in Turin is the teachers' house (pictured), originally built in Vantoux. Collection Laurence and Patrick Seguin,
The Metropole House is part of a vast collection of Prouvé works owned by gallerist Patrick Seguin and his wife Laurence. Forty pieces from their private collection - including this 'Antony' lightweight chair, designed in 1955 - will go on view at Turin's esteemed Pinacoteca Giovanni e Marella Agnelli from 6 April. Collection Laurence and Patrick Seguin,
ADDRESS
Pinacoteca Giovanni e Marella Agnelli
Via Nizza, 230
10126 Turin
Italy