Atelier Luke, Japan + Australia: Wallpaper* Architects' Directory 2022
Wallpaper* Architects' Directory is our annual round-up of exciting emerging architecture studios. Next up, Atelier Luke, with offices in Australia and Japan, joins our 2022 list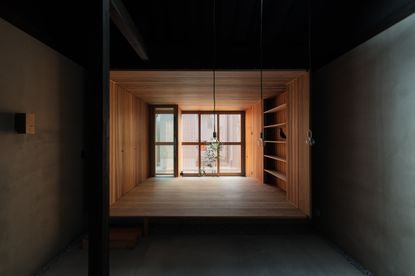 (Image credit: Yohei Sasakura)
Wallpaper* Newsletter
Receive our daily digest of inspiration, escapism and design stories from around the world direct to your inbox
Thank you for signing up to Wallpaper. You will receive a verification email shortly.
There was a problem. Please refresh the page and try again.
Atelier Luke is the brainchild of architect Luke Hayward and interior designer Junko Nakatsuka; the young, but highly refined studio has made it into the Wallpaper* Architects' Directory 2022, our annual list of exciting emerging practices from across the globe.
Who: Atelier Luke
Founded by Luke Hayward in 2013 and co-led by Japanese interior designer Junko Nakatsuka, Atelier Luke effortlessly blends Japanese and Australian design traditions. Hayward is registered as an architect in both countries, bringing a unique balance of the two architectural heritages into the studio's projects. Atelier Luke's works vary wildly depending on their location: from exposed, rusted farm shelters in rural Australia to compact family homes in Kyoto (such as the Terrace House near Demachiyanagi, pictured here).
One common feature in them all is their impactful use of materials. At first sight, gentle colour tones and carefully thought-out textures define the identity of many of Atelier Luke's projects. However, on further inspection, intricate details maximise functionality, ensuring there is more than just refined aesthetics at play. A built-in table serves as a standing bar at one end and accommodates seating at the other; limited space is always maximised using varied, light materials and multipurpose furniture. Leftover wood from some of Atelier Luke's projects is often given over to furniture makers to create new designs, demonstrating the holistic and thoughtful nature of the studio's approach.
What: Terrace House near Demachiyanagi
The renovation of this typical home in suburban Kyoto nods to the post-war Japanese metabolism movement, where the ever-changing uses for spaces are embedded in their structure. Atelier Luke demonstrates this by incorporating sliding doors and screens, which allow flexibility and the easy changing of configurations depending on the occupier's needs. These sliding doors are integrated on the ground floor, where the living space is placed between two cedarwood 'boxes'. One of them opens to a small gravel garden beyond, blurring the line between the interior and exterior. The second 'box' holds amenity spaces, wrapped in traditional Japanese mushikomado latticework.
Providing a stark juxtaposition to the textured cedarwood panels, the floor in the middle of the home is smooth, pale, grey exposed concrete and the walls are sleek, black stained timber. The project creates space with darkness as well as with light; a stepladder leads through the stained wood-clad space and onto a mezzanine floor above, where the sleeping quarters are located. The change of tone dividing these two internal parts of the house, gives a sense of privacy to the bedroom, while still ensuring it's softly lit through slats in the ceiling.
Why: Wallpaper* Architects' Directory 2022
Conceived in 2000 as an international index of emerging architectural talent, the Wallpaper* Architects' Directory is our annual listing of promising practices from across the globe. While always championing the best and most promising young studios, over the years, the project has showcased inspiring work with an emphasis on the residential realm. Now including more than 500 alumni, the Architects' Directory is back for its 22nd edition. Join us as we launch this year's survey – 20 young studios from Australia, Belgium, Canada, Chile, China, the Czech Republic, Ecuador, France, Greece, India, Indonesia, Japan, Nigeria, Paraguay, Thailand, the UAE, the UK, the USA, and Vietnam with plenty of promise, ideas and exciting architecture.
INFORMATION
Receive our daily digest of inspiration, escapism and design stories from around the world direct to your inbox
Martha Elliott is the Junior Digital News Editor at Wallpaper*. After graduating from university she worked in arts-based behavioural therapy, then embarked on a career in journalism, joining Wallpaper* at the start of 2022. She reports on art, design and architecture, as well as covering regular news stories across all channels.
With contributions from