A thriving architecture scene rises in Toronto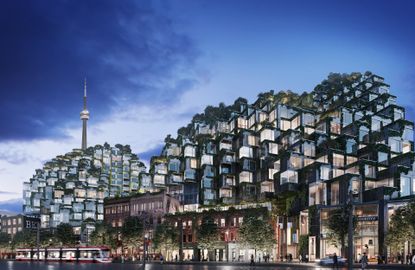 (Image credit: press)
Toronto has long seen itself as the underdog. No more. This year's playoff run by the Toronto Raptors of the National Basketball League, who are on the cusp of an unlikely victory as the league's champions, reflects a new and more braggadocious spirit in Canada's largest city. Its avatar is the Raptors' biggest fan, Torontonian superstar Drake, whose boisterous behaviour on the sidelines boosts the spirits of the team and the metropolis.

Indeed, times are generally good. Locals like to boast about the uncommon diversity of its 2.7 million people, more than half of them born abroad. The region is seeing sustained economic growth, buoyed by a red-hot tech sector that is helping reduce the city's traditional focus on finance. Toronto, in the words of urban designer Ken Greenberg, is 'evolving into an entirely different kind of city'. Projections show the city adding a million people in the next generation.

Already, a 20-year building boom has added homes and workspaces for hundreds of thousands; these are increasingly clustered in the oldest part of the city, first laid out by British surveyors nearly two centuries ago. New towers by BIG and Wilkinson Eyre are joining older ones by Mies Van der Rohe and I.M. Pei, who sadly passed away earlier this year.

There is a downside. Inequality is rising. The province of Ontario is now ruled by the right-wing, and the region's social-democratic tradition is being challenged. Yet the arrival of people and investment into Toronto is creating a lively and innovative urbanism, one that should help the city adapt to its new realities.
Receive our daily digest of inspiration, escapism and design stories from around the world direct to your inbox