Bjarke Ingels' latest skyscraper 'The XI' tops out in New York City
On 11th Avenue, a pair of twisting towers designed by Copenhagen-based BIG aims to stand out in a neighbourhood of stand-out buildings. 'The best angle is looking up,' says Bjarke Ingels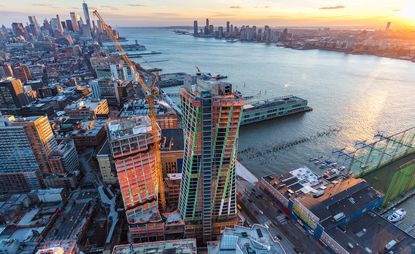 (Image credit: Evan Joseph)
If you're a global marquis-name architect, and you haven't yet done a major building near New York's High Line Park, you might want to hurry: Jeanne Gang, Thomas Heatherwick, and Rafael Viñoly are just a few of the players with recent or upcoming projects, filling up the neighborhood with high-design high rises.

All of these buildings, however, are literally overshadowed by the latest addition, just topped out on 11th Avenue – The XI, a pair of twisting towers from Copenhagen-based BIG, the office of design dynamo Bjarke Ingels.
Imposing as the development appears at a distance, its plan affords a surprising amount of intimacy when encountered up close. 'It feels almost like a European block,' says Ingels: the two skyscrapers are separated by an at-grade mini-park, open to the public and spanned by sky bridges running between the structures.
Standing on the 36th storey of the taller tower, Ingels gazes down at the public space, describing it as a kind of 'oasis'. From there, it looks almost like a street-level continuation of the High Line, situated just half a block away.

'The best angle,' Ingels continues, 'is looking up.' With their snaking contours, the twin skyscrapers waver improbably as they ascend, like dance partners engaged in a mammoth shimmy.
Not just an impressive spectacle, the formal choice also has functional value: for buyers of the 236 apartments (as well as guests at the Six Senses Hotel, occupying ten floors of the smaller volume), the buildings' twisting outlines ensure unobstructed views to the Hudson River and the skyline.

With additional amenities onsite including a spa and art space, The XI aims at standing out, even in an area increasingly packed with stand-out buildings. 'When you're on the High Line,' says Ingels, 'you can't miss it.'
INFORMATION
For more information, visit the BIG website