The Rock is a home rooted in the Canadian mountains
London architects Gort Scott create The Rock, a contemporary family home inspired by the scenery at the Canadian mountains of Whistler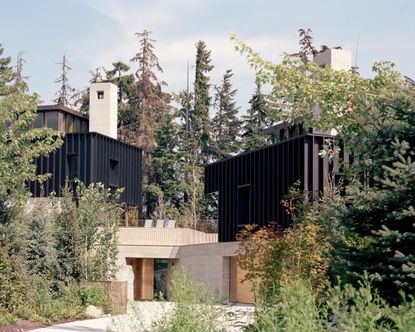 (Image credit: Rory Gardiner)
London architecture studio Gort Scott's newest offering blends design beauty and respect for nature. The Rock is a striking family home that was conceived as an architectural extension to the Canadian mountains. Rising from a series of landscaped levels cut into and built out of the mountainside, it generously comprises six bedrooms and a two-bedroom guesthouse.
Nestled into the slope's bedrock, the building's concrete architecture helps root it in its place. From there, emerge three distinct 'blades' that enclose the living spaces, holding a timber structure above.
Perched upon a distinctive rocky outcrop above Alta Lake, each room within the house is strategically located to make the most of key views from and towards the site, as well as solar orientation. The design supports the client's deep appreciation of the site's natural beauty, which was explored through sketching and observing the different weather conditions and times of day at the site.
The main house features a minimalist and contemporary approach, with the softness of textiles, polished wood and integrated fireplaces adding warmth to the sharp concrete. Gort Scott also designed all the interior finishes and bespoke fittings for the project. The subterranean spaces of the house, which include a cinema room, a gym, a wine room, a utility and service areas, were completed by carving into the rock.
With open-plan living, kitchen and dining spaces located on split levels at the north-western point around the crest of the rock, it is possible to step out onto the crest and the terraces overlooking the lake to catch the evening light from the west. The high ceiling in the kitchen and dining room is specifically engineered to frame the expansive views through full-height glazing to the north and south. Moving around the house evokes the experience of walking up the hill.
'This journey to the crest of the rock, with its shifting horizons, has been a key driver in the layout and design of the building. Although we are placing a significant building on the site, our aim throughout has been to retain this experience when walking to and through the house,' say the architects.
The guesthouse is joined to the main house by an outdoor path that follows the contour of the site, exploiting the light from the south. Situated at the lowest point of the site, the guesthouse also marks the entrance to the property – a feature influenced by the tradition of small gateway buildings used in the composition of large house complexes by architects such as Edwin Lutyens and Karl Friedrich Schinkel. An infinity pool, shared by both the guesthouse and the main house completes the project.
INFORMATION
gortscott.com (opens in new tab)