The first of 12 Solo Houses is completed in Spain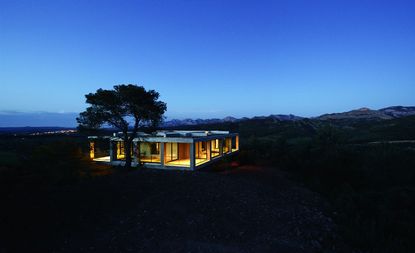 (Image credit: Cristobal Palma)
Chilean practice Pezo von Ellrichshausen Architects has just completed the first house in an ambitious residential development in Spain. The Solo Pezo property is part of the Solo Houses project in Matarraña (opens in new tab), south of Barcelona, which French developer Christian Bourdais hopes will become a reference point in the architecture world. It will be joined by a further 11 innovative designs for holiday homes by young international architecture practices, scattered over a dramatic 40-hectare site.
When he initiated the project in 2010, Bourdais' key influence was the Arts & Architecture magazine's mid-century experimental program Case Study Houses, which commissioned the likes of Richard Neutra and Charles Eames to interpret the post-war house. The developer picks his architects carefully. 'An interesting point is how these architects read society and how they integrate this reading in their buildings,' he explains. 'It has a strong sociological interest. Each project of the Solo Houses collection is one very different reading of society.'
Solo Pezo is a concrete construction elevated aboved the surrounding foliage on a monolithic square platform. Its main living areas have far-reaching views and a deep pool rests in the roofless central space as a symbolic tether between sky and earth.
The next few designs are equally exciting, showcasing the talent of more international young practices. MOS Office's design is strongly connected to the earth and olive grove around it, while the 'geometric forest' by Sou Fujimoto (much like this year's Serpentine Pavilion (opens in new tab)) is a sophisticated reprise of architecture's primitive origins. Didier Faustino and Mésarchitecture designed the otherworldly Solo Faustino, favouring weightlessness inspired by the big bang theory. The designs are unified in their simple approach that nevertheless leads to an arresting effect.
Marketed for sale by Architecture de Collection (opens in new tab), these houses may only be the beginning of the Solo House project, as Bourdais is considering locations in Turkey and Portugal to expand his scheme in the future. In the meantime, more designs by Office KGDVS, Jonston Mark Lee, Studio Mumbai and TNA are soon coming up at the Matarraña site, while the Solo Pezo open days (28 to 30 June) will offer a taster of what it feels like to live in a Solo House.