Tracing the evolution of the contemporary house in the 21st century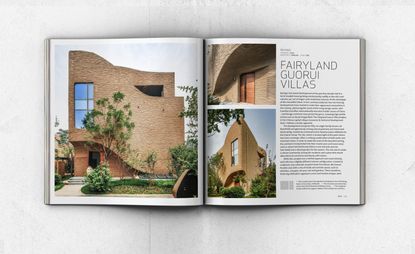 (Image credit: TBC)
The 21st century brought a whole new set of challenges for the house, which the book The Contemporary House from publisher Thames and Hudson addresses. Editors Jonathan Bell, contributing editor, Wallpaper*, and Ellie Stathaki, architecture editor, Wallpaper*, frame a selection of case studies built in the 21st century within the context of booming populations, rapid urbanisation, increased environmental awareness, and demands for sustainability.

Importantly, the book divides up the world geographically – North America, South America, Asia, Europe – examining each region in terms of its contribution to modern architecture and the contextual parameters it presents, such as climate, resources and politics. Yet, it's clear that equally, the 'contemporary house' is in an early stage of development – we're only 18 years into the 21st century after all.

The book outlines how the 20th century shaped architecture recognising the extent of progress made. The single family house became a stylised and powerful entity reflective of an era that saw the emerging of a strong middle class, seen in examples such as the Levitt & Sons-designed Levittown in Philadelphia, completed in 1958. Levittown epitomised the midcentury suburb where each family had a material check list of car, refrigerator, backyard, barbecue, while in California, McMansion style architecture and living was an example of 'a vernacular symbolism of the worst excess', writes Bell.
It's only now, in the 21st century that architects and planners are coming to terms with the repercussions of the suburban sprawl – its poor land use and forced reliancy on the car. Architects, while coming to terms with a farewell to the 20th century, have had to sharpen up. The Contemporary House reveals the new house as context conscious, sustainable, clever, minimalist, and uniquely crafted, with invention and innovation increasingly important, reads the book. Aesthetically, there's barely a pitched roof in sight. Form no longer expresses the traditional family unit, of man plus woman with 2.4 kids. The contemporary house reflects something less binary, more ambiguous, freer and more individual.

If the 20th century was defined by the building of sprawling suburbs and isolated villas, the site that defines the 21st century so far is the infill plot. Philosophies of minimalism are leading the way, with principles of living within our means detectable. Instead of a box at the heart a leafy (self-indulgent) site, a new shape has formed – 'the stack' – a space conscious, insulated and compact house.
In New York City, a narrow urban townhouse designed by Gluck+ is slotted artfully into a terrace of brownstones, while in Ho Chi Minh City, the Micro Town House by MM++ organically joins the narrowly-packed historic Hẻm district as a model for the inner city private house.
If owning a house in the 20th century was a status symbol, owning a home in the 21st century is considered a right, and a major challenge for architects, and politicians, is how can we give everyone in this world what they deserve, a warm home to call their own. Bell and Stathaki pick out some inspiring examples of architects pioneering low budget housing models across the world, that are also importantly just as characterful, creative and warm as the higher budget homes seen in the book.
RELATED STORY
In New Orleans, Jonathan Tate's 'starter home thesis' is brought to life with 3106 St Thomas, a speculative infill site family home that relies on the specifics of its site in order to perform at its best. Heading south to Chile, Alejandro Aravena's Quinta Monroy is another innovative solution to low cost housing that can be developed in an ad hoc way according to need. Meanwhile in Cape Town, the Urban Think Tank led by academics from ETH Zurich in partnership with local developers are working to create modular housing to improve township conditions.

If mass housing in the 20th century was defined by monotony and low quality, in the 21st century it is defined by individuality and longevity. Knox Bhavan's sturdy postmodern take on the Edwardian terrace is a play on the NYC brownstone, while in China, +UN STUDIO has created the Fairyland Guorui villas, a holistic community of 50 homes built of clay-coloured recycled stone that each have a unique configuration. Again the terrace form has been innovated in South Africa, with the Empower Shack that employs local materials and creates an expandable, modular model for required growth.

Amidst a fear of cities homogenising into identical urbanised hubs by the end of the century, the contemporary dweller craves an experience like no other, that is unique and customised. The Contemporary House shows that the house has become an expression of individual style and context, instead of an architectural movement – perhaps a reflection of the agressive capitalism and rise of populism, that has defined the last two decade.
In São Paulo, Isay Weinfeld forcibly encroaches nature into the built space, alongside timber-lined interiors, piles of books and a palette of furniture, colour and textiles that brings out a distinctly Brazilian mood. While in New Zealand, the Red House designed by Crosson Architects (seen on the cover of the book) uses an inexpensive corrugated iron cladding defying a standard residential typology – and in Athens, Point Supreme's Petralona House similarly uses colour to reflect the vibrancy and eccentricity of its owners.

If the 20th century was defined by using resources, the 21st century can be defined by a need to reuse resources. Renovation is a theme that runs throughout the book – from the Dulwich Residence designed by naturehumaine in Canada, that combines a new build extension with a 1920s brick house; to the White house hutong in China by arch studio that refines historic architecture into a functional contemporary home, or in Portugal, where Pablo Pita maintains the original stonework façade of a former house, only to totally redesign the home beneath.

While visually and stylistically, you can expect a surprise on each page of The Contemporary House, every house does have key elements in common. Each house is context conscious, characterful and most importantly, has a roof. The equation of how to house the world's population safely and responsibly has still not been solved – a challenge for architects for the rest of the 21st century.
INFORMATION
'The Contemporary House', £24.95, is published by Thames and Hudson. For more information, visit the Thames and Hudson website
Harriet Thorpe is a writer, journalist and editor covering architecture, design and culture, with particular interest in sustainability, 20th-century architecture and community. After studying History of Art at the School of Oriental and African Studies (SOAS) and Journalism at City University in London, she developed her interest in architecture working at Wallpaper* magazine and today contributes to Wallpaper*, The World of Interiors and Icon magazine, amongst other titles. She is author of The Sustainable City (2022, Hoxton Mini Press), a book about sustainable architecture in London, and the Modern Cambridge Map (2023, Blue Crow Media), a map of 20th-century architecture in Cambridge, the city where she grew up.