Sweet symphony: furnishings for Herzog & de Meuron's concert hall are a minimalist dream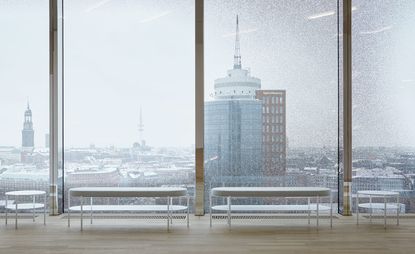 (Image credit: press)
As well as garnering numerous design award nominations, young Hamburg-based design firm Studio Besau-Marguerre is fasy becoming a frequent collaborator with companies such as e15 and Petite Friture. The studio was overwhelmed when architect Daniel Schöning asked them to work with him on the furnishing concept for the Elbphilharmonie.

Furnishing a building by Swiss stalwarts Herzog & de Meuron was their dream job, which also gave them the chance to leave their own footprint within Hamburg's newest landmark building.
For their sensitive concept, Schöning, Eva Marguerre and Marcel Besau were conscious of choosing furniture that would take a back seat to the voluminous space. White and pale-coloured pieces allow for the spectacular interiors to take centre stage and the unintrusive materials help visitors enjoy the richness of music. Supporting the notion of creating something new on a traditional base, the trio chose recent furniture designs of mostly young (or at least still active) designers such as Kraud, Sylvain Willenz, Eric Degenhardt, Claesson Koivisto Rune, Stefan Diez, KaschKasch, Philipp Mainzer and Farah Ebrahimi.

Although the furnishing of the Elbphilharmonie was a big task in itself, the team decided it wouldn't be complete until they created an elegant furniture series especially for the building, designed to meet all the demands of a public space. For the foyers of the two concert halls, they designed a high table, a bench and a side table, which impress in their careful consideration of material and usability. For the Sky Lounge, they devised family of glass tables, which reflect the powerful architecture of the building and assimilate in the ambitious room.
The heart of the Elbphilharmonie will begin to pulse next month – the ladies will discuss the latest interpretation of Beethoven's Ninth with a glass of champagne, placed on an elegant, slim marble-topped high table, while tucking their Jil Sander bags safely away. Meanwhile, gentlemen will sit on benches enjoying Hamburg's skyline across the river Elbe, in the centre of the Hafencity, Europe's largest inner-city urban development project.

If you like the furniture by the Hamburg design trio as much as we do, the series will be produced by a renowned manufacturer from spring 2017.
INFORMATION
For more information, visit the Studio Besau-Marguerre website and the WRS Architekten & Stadtplaner website