Seosaeng House is a holiday home designed to capture the rising sun
Seosaeng House, Studio Weave's first project in South Korea, is a clifftop holiday home perfectly designed to capture a new day dawning over the East Sea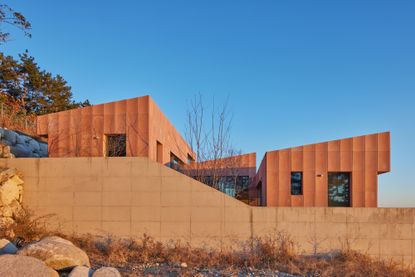 (Image credit: Kyung Roh)
Seosaeng House is nestled serenely on a clifftop, a five-hour drive south from the South Korean capital of Seoul. Here, lies a popular sunrise-watching spot: Cape Ganjeolgot, near the eastern coastal city of Ulsan, is where the sun first rises on the Korean peninsula. Named after the Old Korean word for 'the brightening East' or 'new life', the soft-coloured three-bedroom holiday home makes a striking contrast against the blue sea, yet blends perfectly with the sky's tones as the sun rises and sets on the horizon.
Seosaeng House by Studio Weave
Seosaeng House's unusual upward-slanted roofs are designed to allow in maximum sunlight, making extra room for generous windows below. Wide openings frame views of the sky and the water. 'From anywhere in the house, if you look to the east, you see the sea,' says British-Korean architect Je Ahn, co-founder of the London-based Studio Weave, who designed the house together with Architects Office DOMA.
Its façade is clad in pink-tinted tiles whose gentle curves smartly conceal the streaks created on their surface by the region's salt water during typhoon season, a result often visible on building façades here. Meanwhile, the house's concrete frame makes it safe and durable in what is a designated earthquake zone.
The home's floor plan is shaped like the Korean letter digeut, or a square letter C. The opening forms the entrance, while, protected between the three 'closed' sides, is a jungjeong, or inner courtyard. 'We purposely planted trees that grow quite large here, with a lot of leaves,' says Ahn. 'Environmental control was really important to us. The trees create a lot of shadow during summer; and in winter, the leaves fall and the sun penetrates deep into the building.'
Boundaries are blurred between interior and exterior. Thanks to expansive glazing, the courtyard blends into the living room, which, in turn, bleeds into the front garden. 'I took cues from the hanok [the traditional Korean house],' explains Ahn. 'One thing I liked about hanoks when I was growing up is their direct connection between inside and outside. They always have that openness. With this building, I really wanted to have that.'
Seosaeng House: material and context
The interior of the house is a mix of concrete, lauan plywood (a warm and tactile Asian timber) and locally sourced grey terrazzo. Aesthetics are skilfully married with functionality: electric sockets and air conditioning are hidden from view, mosquito nets are embedded into the ceiling, large windows are triple-glazed to prevent heat loss, and the structure makes the most of natural ventilation. One element that stands out is the stainless steel track inserted into the deep eaves on the first floor, conceived as a place to hang dried fish and fermented soybean blocks.
Locally sourced river boulders surround the house. 'You see them everywhere and I find them incredibly beautiful, but often they're not really celebrated,' says Ahn. 'So we used many elements that you can get hold of easily here, but mixed them with a European sensibility. When you look at this building, it's a very Asian house in its bones, very Korean, but expressed through my British design sensibility.'
Ahn was born and raised in Ulsan before moving to the UK at the age of 13. His grandparents lived in a traditional hanok – a memory which he made the most of while working on this project, which was Studio Weave's first build in South Korea. Due to the pandemic, Ahn had only been to the site once (when construction began in early 2020) before completion. 'Seeing it completed, in real life, was so surreal,' he says.
The client, a Korean-born financier who lives in Hong Kong with his family, wanted a courtyard house where they could all stay when they travelled back to Korea. Similarly, the project brought Ahn back to his roots for the first time. He had never been conscious of it, but looking back, he says, he uses maru-like spaces a lot throughout his work. In Korean culture, a maru is a communal space for gathering, similar to the modern-day living room. Its influence is apparent in Seosaeng House's various living spaces, which also act as connectors between different parts of the house.
'Subconsciously, my upbringing comes in. I travel a lot, too, so I tend to design spaces that are more hybridised,' says Ahn. Yet, going forward, he is not planning on consciously adding Korean elements to his designs. 'If you think about it too much, it becomes self-referential,' he says. 'Sometimes, you just have to disrupt.'  
A version of this story appears in the June 2023 Travel Issue of Wallpaper*, available now in print, on the Wallpaper* app on Apple iOS, and to subscribers of Apple News +. Subscribe to Wallpaper* today