Ruby City by David Adjaye is Texas' newest architectural jewel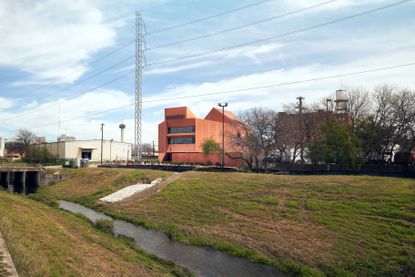 (Image credit: Dror Baldinger)
In the rising tradition of wealthy collectors setting up private museums, San Antonio — historic home to the 19th-century Texas Revolution — has just been graced with its own contemporary-art Mecca. Designed by Sir David Adjaye OBE (his first building in the Lone Star State), Ruby City was envisioned by the late philanthropist, artist and collector Linda Pace — once an heiress to the Pace Foods empire, responsible for the American favourite 'Picante' salsa. The 1,300-square metre complex is now home to the growing Linda Pace Foundation's collection, currently strong of 900 works, and is set to become a new cultural destination for the city of 1.5m.

'It was born from the inside out', Adjaye tells me when we meet at the freshly-inaugurated building, which is partly inspired by the region's Spanish Missions. Its exterior skin is made of an earthy-red precast concrete fabricated in Mexico City, polished for the first three metres up and rough thereafter, encrusted with varying shades of red glass. Two crowning lanterns adorn the top of the structure, creating an animated roofline which draws natural light into the gallery spaces. 'The emotional quality of the building has been consistent from the start', says the architect.

Pace, who tragically lost her battle to cancer in 2007 — only months after commissioning the building — had been introduced to Adjaye by her friend, the artist and filmmaker Isaac Julien, whose work she had collected since the 1990s. 'David was the first person who came to my lips', remembers Julien of the first time Pace shared her ambition of creating a museum, which she claimed came to her in a dream.
Adjaye, who founded his eponymous practice in 2000, was still largely unknown to the mainstream at the time, having mostly completed modest residential projects and artists collaborations, including a light installation with Olafur Eliasson at the 2005 Venice Biennale and Chris Ofili's The Upper Room at Victoria Miro Gallery in London. 'She had confidence in me at an early stage in my career', remembers the now internationally-acclaimed architect, whose iconic National Museum of African American History and Culture — designed in collaboration with the Freelon Group and Davis Brody Bond — opened in Washington DC in 2016, the year before he was knighted.

In the making for twelve years, the $16m-San Antonio project faced a number of complications, including budget reductions in the aftermath of the 2008 financial crash. But its extended development period also allowed for a refinement that is rarely experienced in the fast-paced building industry. 'Architecture gets better when you have time', explains Adjaye who, when the museum finally materialised, had accrued significant cultural building experience.

Ruby City opened this past weekend with an inaugural exhibition in three parts. The group display 'Waking Dreams', on view until 2022, explores notions of vulnerability and resilience, drawing over 50 works from the permanent collection — ranging from paintings and works on paper to sculptures and installations — by local and international artists including Marina Abramović, Cornelia Parker and Glenn Ligon. The exhibition is complemented by an immersive video installation by Isaac Julien and an additional group presentation at Pace's adjacent former studio. Meanwhile, the museum's sculpture garden features a large-scale sculpture by Texas-born artist Nancy Rubins and a sound installation by Turner Prize-winning Scottish-artist Susan Philipsz.

San Antonio's new cultural landmark may seem a modest addition to the growing network of lavish private-foundations à la Museo Jumex in Mexico City or Fondation Louis Vuitton in Paris. But its human scale allows for its founder's exuberant taste and personality to shine through like in a cabinet of wonders. 'She's transitioned to the forever', says Adjaye of the late visionary philanthropist. 'Now everyone can come and see this jewel she's given the city.'
INFORMATION