Richard Meier adds a sleek new addition to Tel Aviv's White City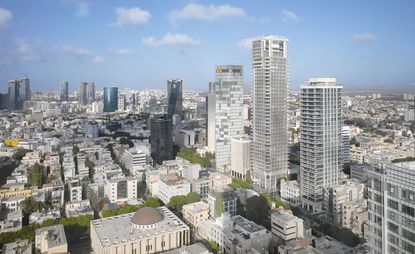 (Image credit: Photography: Roland Halbe )
In Tel Aviv's White City, a blanket of Bauhaus buildings unrolls across the neighbourhood like a pure, geometric, architectural picnic. And now, Richard Meier & Partners has added a sleek new addition to the UNESCO World Heritage Site – the practice's first international residential tower and first project in Israel.

From the 1930s, the area was populated with white modernist blocks, designed by German Jewish architects who had escaped Germany during the Nazi occupation and settled in Israel. Meier's new building was designed with this specific urban context in mind: 'The design of the buildings in the White City made a deep impression on me when I visited Israel many years ago,' Meier explains. 'So to work in this context has been an aspiration of mine for a long time.'

Following Bauhaus design principles, the concrete building has a modular rectilinear emphasis, with a glazed façade layered with an aluminium gridded louvered screen. Described as a 'veil', the screen provides a graceful layer of protection to the apartments, a concept that was inspired by traditional Middle Eastern clothing.
Sitting at the prominent intersection of Rothschild Boulevard and Allenby Street, the 154m high tower – with 42 levels above ground – brings a new sense of scale to the low- to mid-rise district, but the colour and lightness of the louvered façade allow a cordial conversation with the neighbouring buildings. At street level, retail spaces are left open and transparent to reduce the upper mass of the tower, which rests on slim piloti.

With service space at the core of the building, large window frames at the outer perimeter of the volume prioritise light and views into the open-plan apartments where the sliding louver blinds can be adjusted, forming a privacy buffer to the city.

'It is my hope that inviting the timeless quality of this city's light and views into an open layout for the residences, a design we haven't seen much here, will bring together the existing elements with a fresh perspective,' says Meier.
INFORMATION
For more information, visit the Richard Meier & Partners website (opens in new tab)