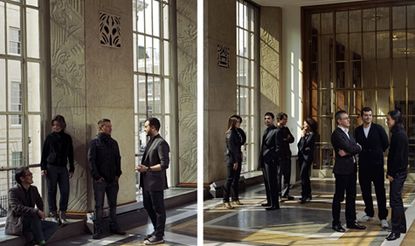 (Image credit: TBC)
Renata Dantas is an architect working in Zaha Hadid's office
Why London?
I came here to do a Masters in the Design Research Lab at the Architectural Association and for the past year I have been working at Zaha Hadid's office on the Archive and Library Facilities of the Department of Herault, in Montpellier, France. Advances in technology and communication mean architects from London can build a project in France, using façade contractors from Italy with models and images produced in China. I want to gain practical experience of the software and platforms being used in Europe, since in Brazil, architecture is booming and will use these innovations more and more. There is no better place to learn than London.
What things do you like most about British culture?
The British accent, people's politeness, tx4 cabs, the parks and the social mix in London.
Do you think there are many opportunities in Brazil if you are an architect?
Brazil is experiencing solid, sustained growth and economic stability and the real estate boom has boosted both residential and corporate markets. This is definitely the time for architects to step in and define how our cities and spaces will look a couple of years from now.
What are your biggest gripes about living here?
Being far from my family, wasting time on getting around the city, poor hygiene in bars and public toilets and the fact that bars, restaurants and clubs close so early.
Emma O'Kelly is a contributing editor at Wallpaper*. She joined the magazine on issue 4 as news editor and since since then has worked in full and part time roles across many editorial departments. She is a freelance journalist based in London and works for a range of titles from Condé Nast Traveller to The Telegraph. She is currently working on a book about Scandinavian sauna culture and is renovating a mid century house in the Italian Lakes.