Examples of red architecture are rolled up into a book by Phaidon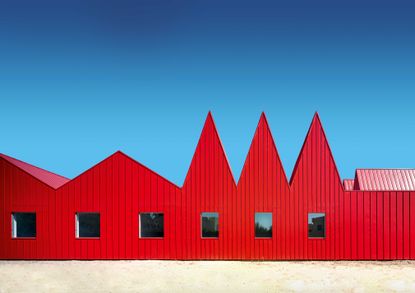 (Image credit: Jose Javier Gallardo)
Last year, visual arts publisher Phaidon revealed the tome Black: Architecture in Monochrome, which delved into the architectural history and application of the colour black. This year, 2018, sees the publishing house introduce a sophomore entry into the Architecture in Monochrome series, one that sets its focus on a far more vibrant shade. Spanning 1,306 years of worldwide constructs, Red: Architecture in Monochrome brings together 150 of the world's most striking red buildings and installations.

Opening with an essay by art historian Stella Paul, the tome considers the cultural and spiritual significance of the shade over the centuries, accompanied by perceptive quotes from the likes of Robert Motherwell, William Carlos Williams and Robert Burns. Paul describes how the hue historically came into circulation in art, fashion and politics, from the prehistoric peoples who discovered the reds in iron oxide deposits and used them in cave drawings; to its inherent link with rank and authority in Roman dress; and its ideological connotations with socialism in the 17th and 18th centuries.
Featuring works as from as early as 711 and spanning all the way through to 2017, Red: Architecture in Monochrome covers a plethora of architectural styles from a host of international practitioners. The 175 full-colour photographs illustrate works by the likes of Lina Bo Bardi (São Paulo Museum of Art, 1968), Tadao Ando (Water Temple in Awaji-Shima, 1991) and Frank Gehry (Der neue Zollhof commercial development in Düsseldorf, 1998), vibrantly presenting each project in fascinating detail. From residential developments and cultural hotspots, to school facilities and expo pavilions, no architectural typology is left unturned.
INFORMATION
Red: Architecture in Monochrome, £29.95, published by Phaidon (opens in new tab), is available from 12 October 2018