Beirut-based Raëd Abillama Architects reveals first US project, Abi Chelsea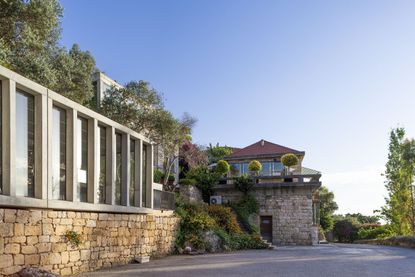 (Image credit: press)
'A legacy of bold and gracious living since 1472', chirps the marketing blurb for Abi Chelsea, the first project in the US by Lebanese practice Raëd Abillama Architects. Quoting some 300-years of heritage in excellence may sound incredulous, but for Raëd and his brother, the art collector Karim Abillama, their family's 600-year legacy in shaping the cultural pulse of Lebanon and beyond is as alive today as ever.

The Abillamas emerged in the 15th century as emirs of Metn, owning vast swathes of land in the mountains between Beirut and Damascus. While fiercely proud of their Lebanese heritage, which serves as a particular source of inspiration for Raëd's architectural aesthetic, the Abillamas' contribution to art, architecture, and culture is an international and collaborative affair.
Fixtures by British design studio Floss Creatives and iconic Danish modernist brand Vipp – as well as the local lighting design studio PSLab (perhaps best known for their long-term collaboration with Aesop) feature throughout Raëd's built work, which includes residential, cultural, and commercial projects. 'The quality of small brands sourced worldwide and the poetry of traditional Lebanese architectural motifs merge to create a home that is equally traditional and modern,' he says of his architectural vision.

Raëd also custom-builds furniture for clients; influenced by his time as an undergraduate at the Rhode Island School of Design, where he studied under an IM Pei accolade, his creations exude a lucid and elegant modernist charm. Because of their geometric purity, he is particularly fond of stairs.

Meanwhile, Karim's art collection – housed in an 18th-century villa meticulously renovated by his brother – boasts such modern and contemporary heavyweights as Andy Warhol, Richard Serra, Yayoi Kusama, and Elmgreen & Dragset. From Carsten Holler's gigantic mushroom sculpture that pounces on visitors first entering the house, to Thomas Houseago's poolside headless Giant – 'I didn't find him, he found me', grins Karim – and the furniture-climbing Meme men of Antony Gormley, there is a playful, thoughtful, and at times subversive means of presentation that pairs perfectly with the interiors selected or designed by Raëd himself.

With Abi Chelsea, RAA is bringing the Abillama touch to New York, balancing and indoor and outdoor living that celebrates the beauty and intimacy to be found in everyday life (the penthouse will be particularly zen, with a 139 sq m terrace – twice the size of the average NYC new-build apartment). By focusing as much on emotional affect as material purity, Raed's treatment of architecture as a total work of art might just provide the oasis of calm that New York needs.
INFORMATION
For more information visit the website of Raed Abillama Architects