SMoCA explores the legacy of Arcosanti founder Paolo Soleri in a new exhibition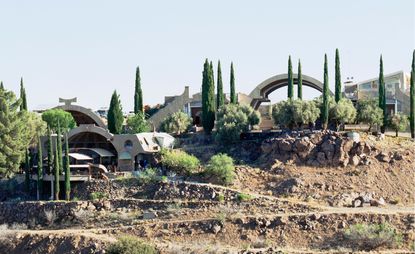 (Image credit: Aaron Rothman)
Wallpaper* Newsletter
Receive our daily digest of inspiration, escapism and design stories from around the world direct to your inbox
Thank you for signing up to Wallpaper. You will receive a verification email shortly.
There was a problem. Please refresh the page and try again.
Up until his death in 2013, the visionary Italian-born architect Paolo Soleri rarely had his hands still. Across his 60-year career, Soleri's dream of 'arcology' – a new urbanism that infused the city with nature – was articulated piece by piece: as much through blueprints and lessons in the outdoor classroom of Arcosanti, as in his sketches, models, sculptures, and of course, the iconic ceramics and cast bronze bells coveted by local Arizona denizens and the international architecture community alike.

'Repositioning Paolo Soleri: The City is Nature' at the Museum of Contemporary Art in Scottsdale, Arizona, tracks the full arc of Soleri's prolific practice. It is the culmination of the institution's eight-year relationship with the architect and the Cosanti Foundation. Offering up the largest selection of original work presented in North America since 1971, the exhibition underscores the contemporary relevance of Soleri's legacy, ultimately 'reclaiming him as a visionary and a cultural icon,' says Sara Cochran, SMoCA director and chief curator.
Disenchanted by the conditions of mass production and suburban sprawl that modern life was trending toward, Soleri's first disciples were drawn to the experimental 'urban laboratory' of Arcosanti in 1970. Here, some 60 miles north of Phoenix, they lived and worked together under the fierce desert sun, learning valuable life skills in exchange for their hand in bringing Soleri's blueprints to life: a workshop module still active to this day, with approximately 50 residents at any given time.

When asked about the relevance of the exhibition vis-à-vis the environmental and political crisis facing America today, Cochran explains: 'The timing with the current political situation in the States is fortuitous; however, the questions around environment are not.' Soleri had been thinking about these issues and dreaming up solutions throughout his career. 'Cities like Phoenix are now starting to think about how to create a walkable and bikeable urban core,' Cochran says, mirroring the people-centric, anti-car philosophy championed by Soleri and his team of young builders a half-century prior.
With approximately five per cent of Arcosanti's masterplan realised, and with an occupational capacity of 5,000, the modest pace of Arcosanti's construction has always been a point of contention. Yet with the 'new normal' of political and environmental meltdown defining our contemporary global condition, we find ourselves increasingly gravitating toward alternative modes of living.

Soleri's vision of building upwards, not outwards, with progress not so much tied to commercial production as social connectivity, could yet serve as a breath of inspiration, and 'Repositioning Paolo Soleri: The City is Nature' pitches this perspective in full force, 50 years down the line.
INFORMATION
'Repositioning Paolo Soleri: The City is Nature' is on view until 28 January 2018. For more information, visit the SMoCA website
ADDRESS
SMoCA
7374 East 2nd Street
Scottsdale AZ 85251
Receive our daily digest of inspiration, escapism and design stories from around the world direct to your inbox